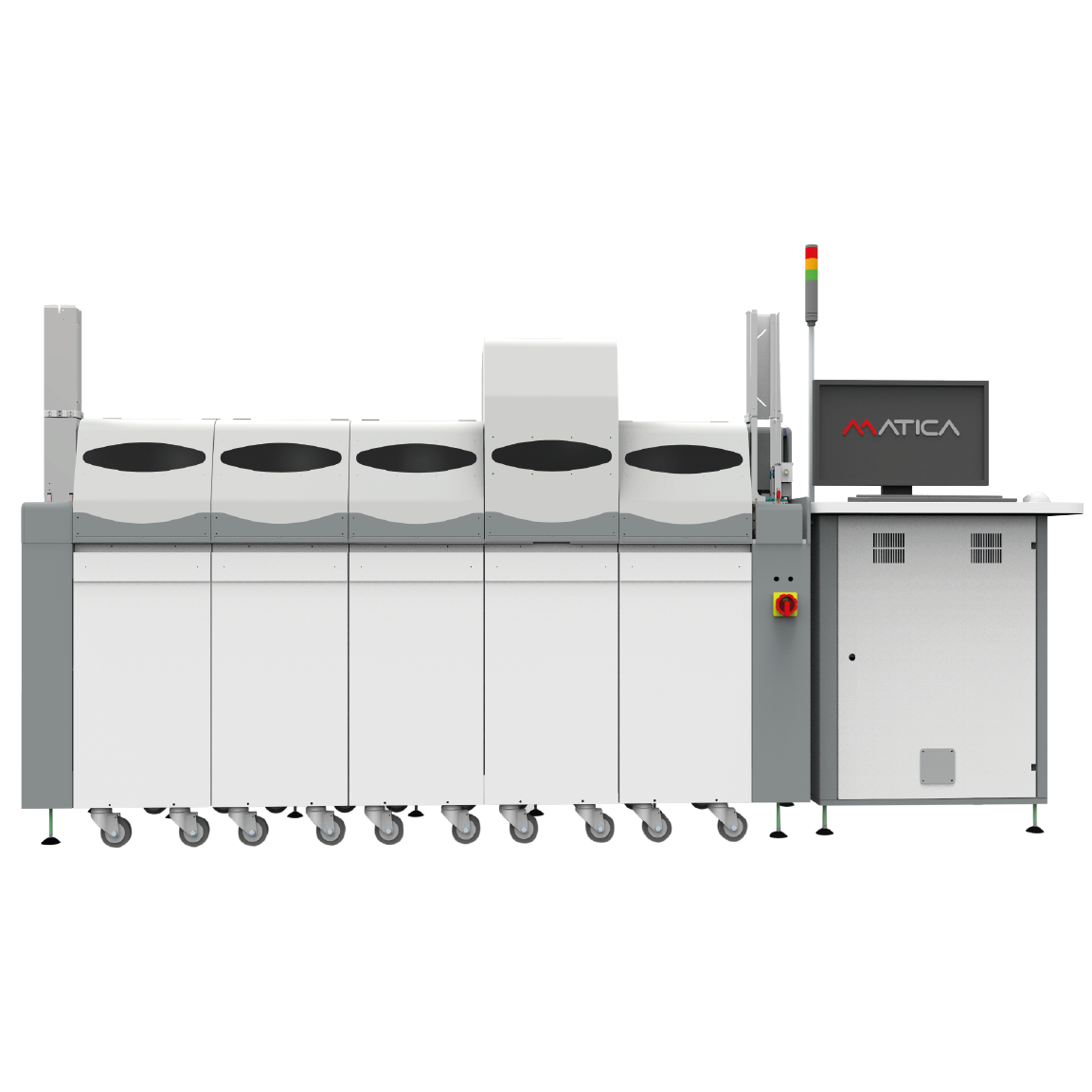 S7000
The complete centralized card personalization solution
Modular card personalization system, configurable for any high volume issuance requirement
The S7000 combines all of Matica's card issuance expertise and technologies in to one fully configurable inline, high volume, high speed platform. It's robust, modular design can incorporate thermal printing, laser engraving, embossing, card encoding, mailing and even drop-on-demand inkjet printing. It is the ultimate central issuance system and can be configured to perfectly match any requirements, including financial and governmental (ID) card issuance. It can easily be upgraded with additional modules that enable increased speed, performance and throughput.
The S7000 is scalable from a single-function system up to a fully loaded configuration combining multiple personalization technologies. It is capable of embossing over 1000 cards per hour (cph) and printing up to 1800 cards per hour. Its high yield contact/contactless chip encoder can be optimized to the appropiate production rate.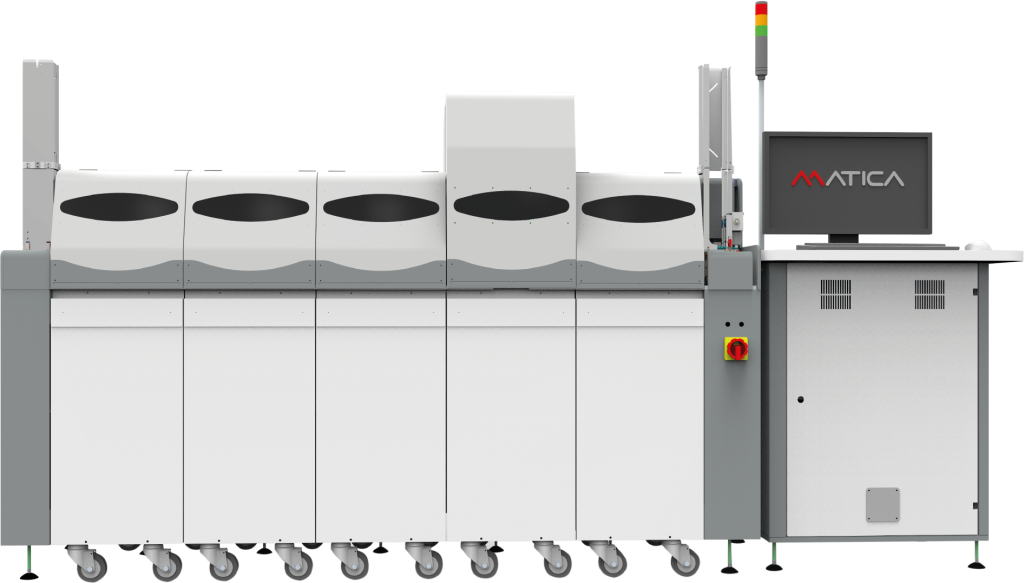 The S7000 platform is a complete end-to-end solution, which is able to combine card personalization with the in-line MS1000 card mailing system to prepare cards for delivery to the end user. This offers a flexible solution for direct card mailing and fulfilment applications, ensuring cards are kept secure throughout the issuance process. The entire issuing and mailing environment is controlled by Matica's Maticard Pro control software – with tools to convert data, this software can manage and produce jobs alongside other machines whilst successfully switching quickly between smaller batches.
Key strengths
Flexible platform with more than 50 different options
Advanced personalization technologies integrated including drop-on-demand inkjet and high yield encoding
Scalable architecture, easily upgradable to additional technologies or volume requirements
Single control software, fully compliant with Visa/Mastercard requirements
SDK for third party integration, including smart card encoding
Throughputs of up to 2400 cph (dependant on personalization technology choice)
Ideal for
Wide range of card applications from flat to embossed cards
Centralized card issuance
Secure government ID card programs
Financial card issuance
Optional card personalization elements
Thermal color printing
Embossing and tipping
Advanced laser engraving
High yield card encoding
Mailing and fulfilment inline
Custom designed station for third party hardware integration
Live visual and data verification
Top level performance with low cost of ownership
The S7000 has an excellent performance / cost ratio thanks to:
Its modularity and flexibility to scale over time throughout the system lifecycle
Easy reconfiguration over time according to evolving card production needs
Network capabilities that handle multiple systems in parallel, through a job dispatcher software
The S7000 system can handle multiple production jobs which enables multiple small batches made up of different types of cards with no reduction of the machine throughput. Its powerful system control software, MaticardPro, is a Microsoft® Windows® PC based software platform that includes everything you need to run production jobs and batches. It provides a card design editor together with a card management and production solution.
Product options
Product features
Technical specifications
Personalization
Methods available
Embossing, indenting, graphics printing, tipping, laser engraving, drop-on-demand inkjet
Resolution
Depends on configuration:
Thermal printing 300/600dpi
Laser engraving up to 1200dpi
DoD 600dpi
Speed
Depends on configuration:
Average: 1000 cph embossing and 2000 cph printing and laser
DoD: 1500cph
Encoding
Magnetic stripe
ISO 7811 HiCo/LoCo
(factory fit only)

Smart card / contactless
Contact PC/SC, EMV compliant
Smart contact: ISO 7816-2, ISO14443A, B, ISO15693, MIFARE®, DESFire®, HID iClass®
Cards
Format and materials
Depends on configuration, but typically ISO CR80 (various plastics)
Card thickness
20 mil – 35 mil
Input hopper
600 cards
Output hopper
600 cards
Connectivity
Connectivity
Ethernet

Platform
Printer dimensions (L x W x H)
Depends on configuration
Weight
Depends on configuration
User interface:
Maticard Pro
Related products
Markets