CardExchange® Producer
The power to create ID issuance programs
Advanced ID card producer with an easy to use interface for custom ID card designs
Available in different editions to suit your application, CardExchange Producer gives you all the tools to create the perfect card layout combined with issuance databases using a simple step by step process. With just a few clicks, CardExchange Producer makes it easy to create, connect, encode, and produce identity cards for a wide variety of organizations, including schools, universities, and enterprise access control systems.
CardExchange comes with optional preloaded card layouts to help save time and maintain consistency before you start producing cards. Alternatively, using the card wizard feature, you can create your own unique card designs in just a few clicks.
CardExchange also offers predefined databases, or the option to connect to your own database(s). Using the drag and drop feature, you can easily add database fields to your card layout without the complexity of manually mapping each data field.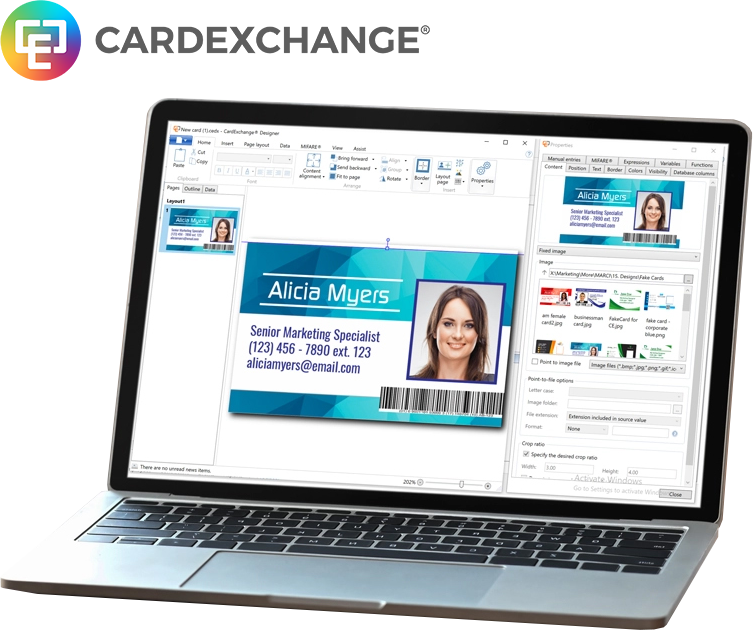 Key strengths
Unlimited database capabilities
Supports multiple database types
Card encoding
Advanced designer
Easy integration
Centralized licensing and data sharing
Customizable fields
LDAP read/write data images
Ideal for
A wide variety of organizations, including schools, universities, and enterprise access control systems.
Software features
Upgrades to suit your needs
Auto-crop face recognition
Biometric integration
Customizable interface
Print dispatcher
User groups/profiles
Database record filter
Producer features
Unlimited database capabilities
You can connect each card template to its own database. Connect to your own existing database(s) or use our preloaded databases. After printing you can push back any data to the leading database and multiple back offices in one click. This can include record updates, print date, smart card data, photos and more. Producer has native connections to the most popular type of SQL databases as well as ODBC. Purchased plug-in development is available to connect to an API.
Support multiple devices
Producer can support any Matica printer. Other supported devices include Logitech webcams, Canon cameras, fingerprint readers, signature pads, and encoders.
Card encoding
Producer offers inline encoding for the most popular technologies such as MIFARE®, DESfire (EV1 & EV2), MIFARE® SAM, 1K, 4K, Classic, etc. It offers PROX read only. Inline encoding is available in the Enterprise Edition. Basic magnetic stripe encoding is available in all editions. Producer has an easy to use wizard to help you set up everything you need to encode your cards. With the powerful database connections tool you can store the encoded data back to the leading database the template is connected to and multiple back offices – all in one click of a button.
Advanced designer
Easily create the perfect ID card. An intuitive user friendly workflow with a Microsoft® look and feel. Choose fonts and add images, graphics, barcodes, magnetic stripe, and much more. Powerful graphic tools enable you to resize and rotate objects on your card, apply graphic enhancements, remove backgrounds from images, create variable images, all with a simple point and click. Each template can have multiple layouts, with automatic switching of layouts when printing based on a field value. You can even control the text: how it looks, merge fields, and even have an image displayed as a background in your text field.
Easy implementation
Installing and setting up CardExchange Producer is easy and done in minutes. Just download the software and get started right away. Once installed, an easy create a card user guided wizard helps you create a card and connect your card to your database. With a variety of user guided wizards for database connections, inline encoding, card creation, user and group profiles, and more Producer makes setting up your perfect ID card system easy.
Print dispatcher
The print dispatcher, in combination with a print server for each printer, enables every print job to be handled efficiently. Once you hit print, whether one card or a batch print job, the print dispatcher receives the print job and automatically assigns the print job to any of the connected printers. If a printer gets has an error or runs out of ribbon, the print dispatcher will take the entire print job and assign it to another printer. Your print production keeps going. When doing large batch printing you can send large print jobs to the dispatcher and it frees up Producer to continue doing other things instead of waiting for the print job to finish.
User and group profiles
With the Premium Edition user and group profiles with login, enable you to control what every group or user can see or do inside the application. For example, group profiles can be applied to a department, location, or personnel type removing access to card templates, database record information, etc. that you don't want that group to see. You can create user profiles with login expiration dates, password reset requirements, and more. You can define what the user can see including specific templates, functions and configuration tools – creating a perfect interface for that user. Removing everything not relevant to a group or user not only protects data but simplifies the interface for the user.
Centralized licensing and data sharing
CardExchange Producer network licensing enables centralized data management and licensing. With centralized data you can have all your card templates, user profiles, database connections, and more in one central location and shared across all users of the system. You can load the software on to as many computers as you want and point them all to a central license manager folder located anywhere on your network, you are not limited to a LAN. As long as Producer can see the folder anywhere on your network, worldwide, you can run Producer. Combining this feature with our powerful user and group profiles means you can control what every location can see and do with their software.
Customizable interface
CardExchange Producer's interface has a variety of customizable features. The software comes in over 30 languages which can easily be switched with a click of a button. Each section of the interface layout can be moved around to fit your workflow needs. With the use of our user profiles you can define what each user can see and do in the system, removing all the features you do not want them to see.
Lightweight Directory Access Protocol (LDAP) read/write data and images
The LDAP data-source plug-in connects CardExchange Producer to the Active Directory (LDAP) as though it is one of the available databases. This plug-in, available with Business Edition upwards, enables you to read and update entries as well as display and add photos to existing entries. If you need to use an encrypted connection to the LDAP server then CardExchange Producer supports several methods.
Customizable fields
Having the right database record fields and options is important for having quality database record information integrity. Controlling the input and format of data enables easy reporting or filtering in any workflow. Starting with the Premium Edition you can create pick-lists, date picker, and other field types. With the Professional Edition and higher, you can rearrange the fields to match your personal workflow. You can set compulsory fields, requiring input before printing is possible. All data being collected will be pushed back to the leading database that the card template is connected to, and with our storage items feature you can define other locations you want to store the data. Use the invisible feature combined with storage items to collect data such as date printed, print count, user information, and location to know exactly what your users are doing with the printed cards for auditing purposes.
Auto crop face recognition
When taking photos for your ID cards it is important to have consistency in the look and feel of the photos. Starting with the Professional Edition, when taking photos you can use the auto crop and the face recognition tool to automatically crop your images in the perfect ratio. The face recognition tool automatically looks for the person's eyes and uses this to set the size of the photos on your cards. This creates a consistent look and feel to all your printed cards. You can choose to store the cropped image back in your database or keep the original picture untouched.
Related products
Markets