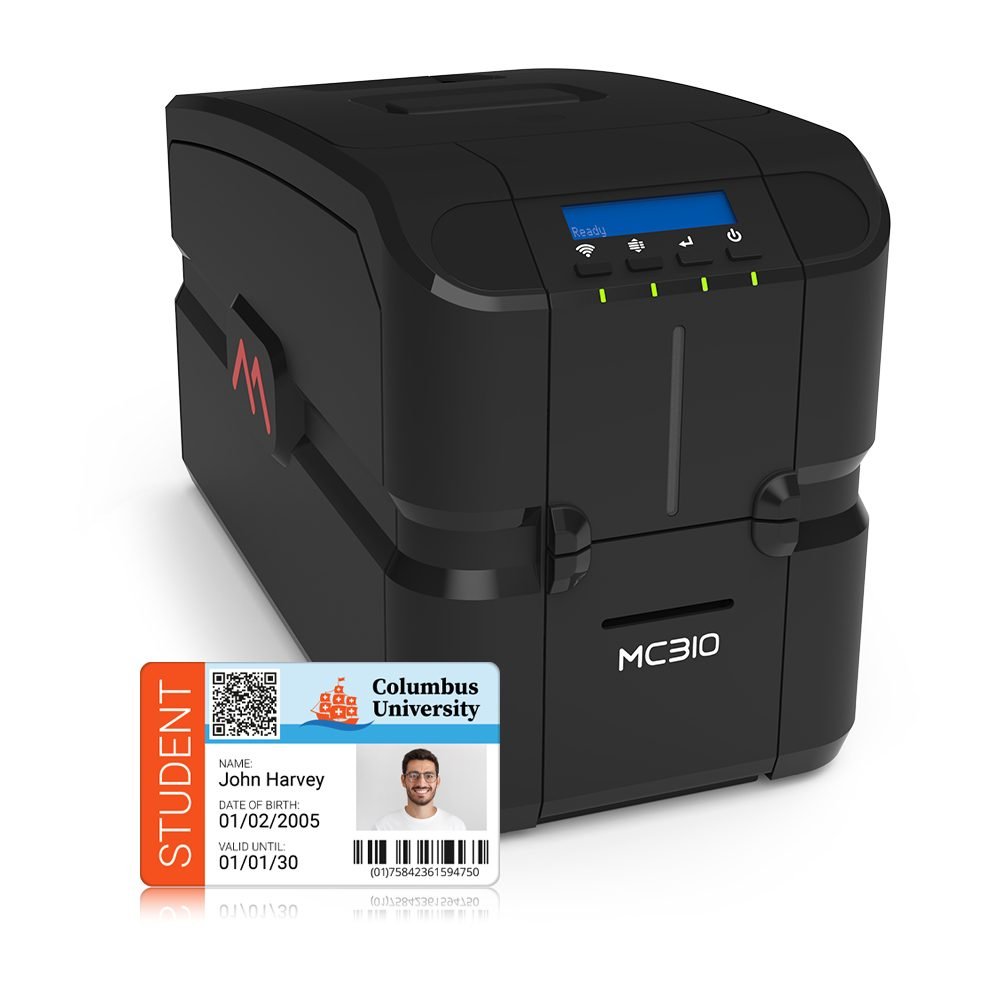 MC310
Best-in-class ID card personalization
High quality direct to card printing designed to fit any secure card issuance application
Matica's MC310 is unrivaled in its versatility. It can be upgraded from single to dual-sided and is available with multiple secure card encoding options. Suitable for secure ID issuance, the MC310 has an extensive ChromXpert consumable program that includes secure Ultra Violet (UV) and pearlescent (Sc) ribbon options.
The MC310 integrates seamlessly with both lamination and laser options making it ideal for secure ID projects and high volume issuance. Its excellent build quality and robust metal chassis are backed by an industry-leading four year warranty.
The MC310's durability, versatility, and extensive feature set make it ideal for the most demanding, high-volume desktop applications such as access control, government ID, and healthcare identity cards.
Key strengths
High quality 300dpi printing
Up to 180 color cards per hour
Versatility – including multiple encoding, lamination, and laser options
Windows® and Mac compatible
Robust, reliable build quality
Extensive consumables program,
including secure ribbons
4 years warranty
(subject to the use of chromXpert® ribbons)
Optional upgrades
Dual-sided printing
Magnetic stripe encoding
Contact and contactless encoding
Single-wire encoding
Dual feeder
Lamination – inline module
WiFi
Mechanical and electromagnetic locks
Standard features
Optional features
Watch the MC310 video
Technical specifications
Printing
Method
Dye sublimation
Mode
Direct to card
Resolution
TruEdge 300dpi
Speed
Up to180 cph (YMCKO)
Up to 1000 cph (Monochrome)
Encoding
Options
Dual-interface encoder
• Contact chip
• Contactless
Magnetic stripe encoder
• ISO7811
Cards
Format and materials
ISO CR80
PVC, PVC-C
Rewritable
Input hopper
100 cards
Output hoppers
30 front / 80 back
Connectivity
Connectivity
Ethernet
USB 2.0
Platform
Printer dimensions (L x W x H)
406 x 212 x 256mm
(15.9" x 7.9" x 10.6")
Weight
6.8kg
15lbs
Consumables
Ribbon
Panel
Capacity
Part No
ChromXpert Diamond
YMCKO
250 prints
PR20319301
ChromXpert Diamond
YMCKO-K
200 prints
PR20319302
ChromXpert Diamond
Half-panel YMCKO
400 prints
PR20319303
ChromXpert Platinum
YMCKO
250 prints
PR20307301
ChromXpert Platinum
YMCKO-K
200 prints
PR20307302
ChromXpert Platinum
YMCScKO
200 prints
PR20319383
ChromXpert Platinum
GOKO
250 prints
PR20305391
ChromXpert Platinum
SOKO
250 prints
PR20305392
ChromXpert
UcYMCK
250 prints
For PC cards only
PR20307382
ChromXpert
KO
600 prints
PR20305304
ChromXpert
K Monochrome
Up to 2000 prints
PR20314305
ChromXpert
Silver Monochrome
Gold Monochrome
Up to 500 prints
Up to 500 prints
PR20314306
PR20314307
ChromXpert
Monochrome: White, Red, Green, Blue and Scratch-off
Up to 1000 prints
Also available
Cleaning Kit
–
–
PR20309610
• To ensure print quality and card durability, printhead lifespan and overall printer reliability, use chromXpert ribbons only.
• Supply cores and cassettes are recyclable. Packaging is recycled.
Related products
Markets