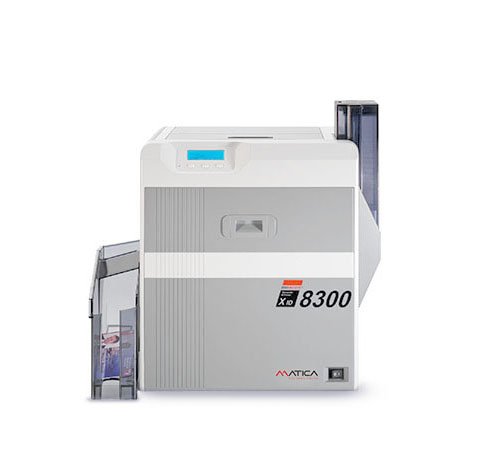 XID8300
Reliable solution for
high quality ID card personalization
Established, versatile retransfer card printer
Matica's XID8300 is a versatile, durable and reliable printer with an established and renowned print engine. Its retransfer printing technology offers consistent, crystal clear printing right over the edge of the card. This indirect printing method also enables the XID8300 to print on variable surfaces found on contactless/contact chip cards and on multiple materials including PC (polycarbonate), PET and ABS cards, in addition to PVC.
Matica's XID8300 is available as a single or dual-sided printer with a bend remedy option to ensure card flatness. Its durability backed with a 3 year warranty and its high capacity ribbons (1000 images) mean it is well suited to mid to high volume card issuance applications, including access control cards or student ID cards.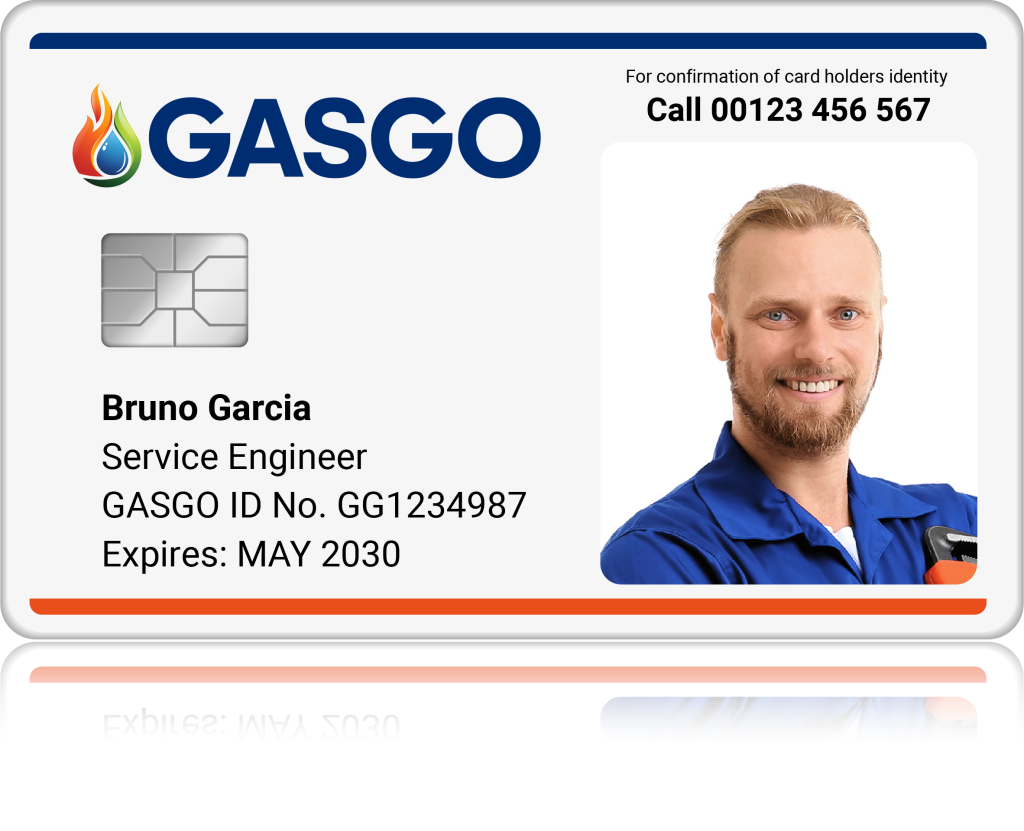 Key strengths
300 x 300dpi printing
Robust and durable print engine
Consistent print quality on multiple card surfaces/materials
High capacity consumables (1000 images)
Up to 120 cards per hour
Scalable design and compact footprint
USB and Ethernet
Ideal for
Mid to high volume secure ID card programs
Corporate cards
Access control cards
Campus / student cards
Optional upgrades
Dual-sided printing
Bend remedy for card flatness
Inline magnetic stripe encoding
Inline contact chip and contactless smart card encoding
UV security printing
Inline single or dual-sided lamination
Secure your ID project
Additional covert security printing can be added to the card using the UV ribbon option. To further reduce the risk of card fraud, the XID8300 offers a range of other card/data security options including IPSEC for encrypted data transfer and magnetic stripe, contact chip and contactless encoding options. The printer can also be secured with a Kensington lock.
Product features
Retransfer dye sublimation
Technical specifications
Layout
Method
Dye sublimation
Mode
Retransfer
Resolution
300dpi
Speed
Up to 120 cph (Single-sided)
Encoding
Magnetic stripe
ISO 7811 HiCo/LoCo
(factory fit only)

Smart card / contactless
Contact PC/SC, EMV compliant.
Smart contact: ISO 7816-2, Contactless: ISO14443A, B, ISO15693, MIFARE®, DESFire®, HID iClass®
Cards
Format and materials
ISO CR80
PVC, PVC-C, PET-F, PET-G, ABS, PC
Card thickness
0.25 mm – 1.02 mm
(10 mil – 40 mil)
(hopper adjustment required)
Input stacker
200 cards (0.76mm)
Output stacker
100 cards (0.76mm)
Connectivity
Connectivity
Ethernet
USB 2.0
Platform
Printer dimensions (L x W x H)
343 x 322 x 360 mm
(13.5″ x 12.6″ x 14.1″)
Weight
13.9 kg
(30.6 lbs)
(excluding optional built-in items)
Consumables
| Ribbon | Panels | Capacity | Part No |
| --- | --- | --- | --- |
| ChromXpert Diamond | YMCK | 1000 prints | PR000816 |
| ChromXpert Diamond | YMCKK | 750 prints | PR000817 |
| ChromXpert Diamond | YMCKUv | 750 prints | PR000813 |
| ChromXpert Diamond | K | 2200 prints | PR000815 |
| ChromXpert Diamond | RT Film | 1000 prints | PR000819 |
| ChromXpert Platinum | YMCKPo | 750 prints | DIC10218 |
| Cleaning kit | – | – | DIC10044 |
• To ensure print quality and card durability, printhead lifespan and overall printer reliability, use chromXpert ribbons only.
• Supply cores and cassettes are recyclable. Packaging is recycled.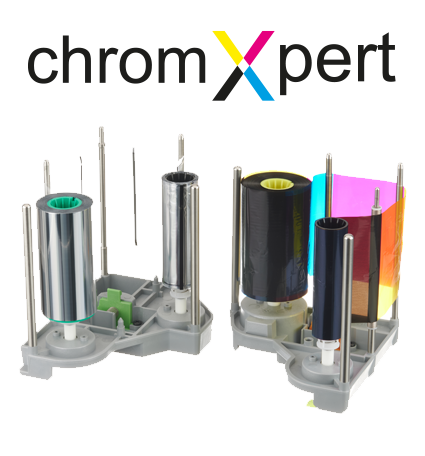 Related products
Markets