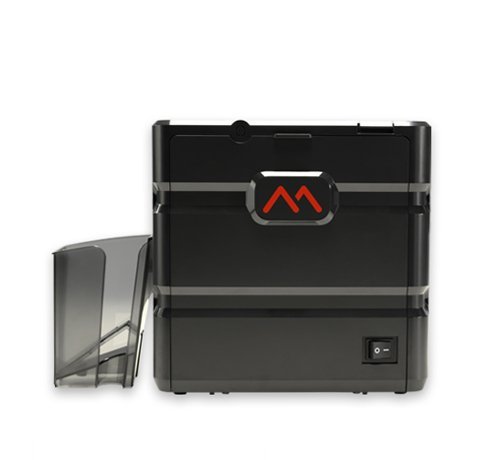 MC-L2
Inline laminator for the MC310 direct to card printer
Increasing card longevity and security
The MC-L2 laminator module is the ideal solution to enhance the durability and the security of cards printed on the MC310 direct to card printer. Easy to install and operate, the MC-L2 works inline with the MC310 to laminate cards at exceptional speeds, laminating both sides of the card in less than 20 seconds thanks to the simultaneous dual-side lamination process. Due to its modular design the MC-L2 can be easily connected to the MC310 using a connection plinth, which also serves as a useful lockable storage unit for cards and cleaning kits.
The MC-L2 is available in three different configurations to suit any card lamination application:
• Single-sided lower cassette only
• Single-sided upper cassette only
• Dual-sided with both lower and upper cassettes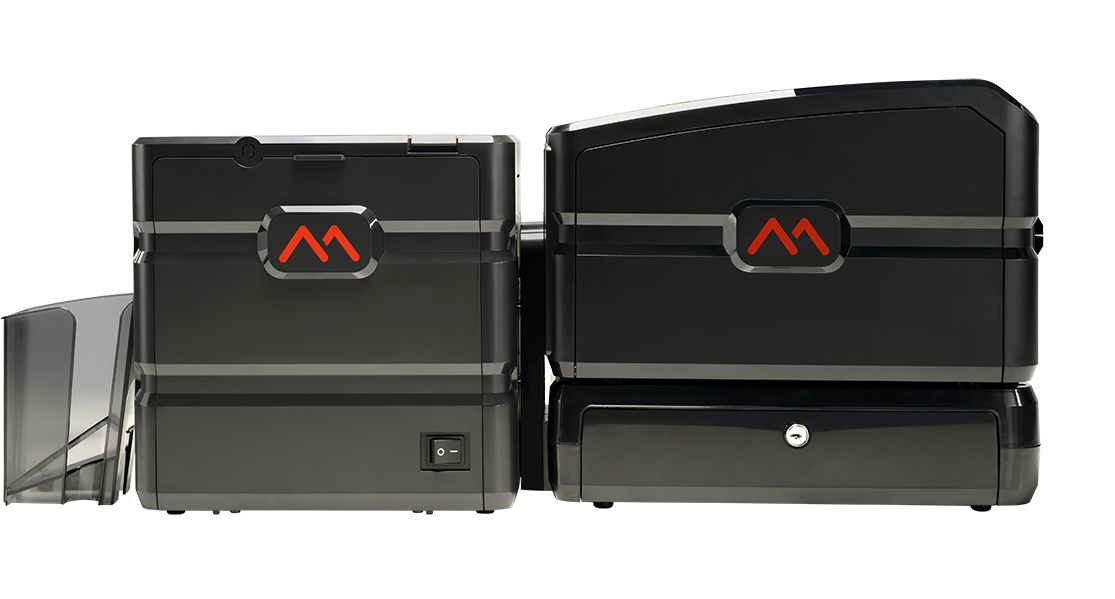 Key strengths
Compact desktop design that seamlessly integrates with the MC310 direct-to-card printer
Up to 180 cards per hour
Controllable from the MC310's XPS driver or from EDIsecure
Ideal for
National ID cards
Driving licenses
Resident cards
Corporate cards
Campus / student cards
Options
Continuous overlay film or patch laminate
Standard or customized holographic or
clear laminate
Single-sided (upper or lower cassette) or
dual-sided lamination
Front cover lock
Enhancing card security
Once personalized by the printer, cards can be laminated with the MC-L2 by using a heat-sealing film. This film can contain holographic and other Visual Security Elements (VSEs) for enhanced protection. Matica offers a range of standard holographic designs in both patch laminate and continuous film formats. For the ultimate security protection, organisations can opt for a customized holographic laminate with VSEs that are unique to them – this approach is often adopted for government secure documents such as driving licenses and national ID cards.

Reinforcing card durability
Another important reason to laminate pre-personalized cards is to increase the durability and extend the life of the card, thanks to the enhanced mechanical and UV resistance of the lamination material. A card laminated with a 1.0 mil (35 micron) patch can have a lifecycle of up to 10 years – a timeframe often mandated for government/citizen ID schemes.

Product features
Holographic retransfer film
Technical specifications
Lamination
Lamination method
Heater roller
Lamination mode
Single and dual-sided
Halogen lamp
Single: 500W x 1 vertical
Dual: 500W x 2 vertical
Lamination speed
19 seconds
Laminates
Security
Protected with RFID tag
Thin film overlay
Clear or standard/customized holographic 1000 repeats/roll
Patch
Clear or standard/customized holographic 500 repeats/roll
Patch thickness
0.5 mil (clear)
0.6 mil (holographic)
1.0 mil (clear/holographic)
Cards
Card materials
PVC, PET-G, PET, ABS, PC
Card format
ISO CR-80-ISO 7810
53.98 x 85.60 mm
(3.375" x 2.125")
Card thickness
0.76 -1.0 mm
(30 – 40 mil)
Capacity
Output stacker: 150 cards
Manual single card feed

Connectivity
Connectivity
USB 2.0 (High-speed)
RS232
Platform
Printer dimensions (L x W x H)
320 x 214.1 x 320.1 mm
(12.5″ x 8.4″ x 12.6″)
Weight
10kg
(22lbs)
Consumables
Related products