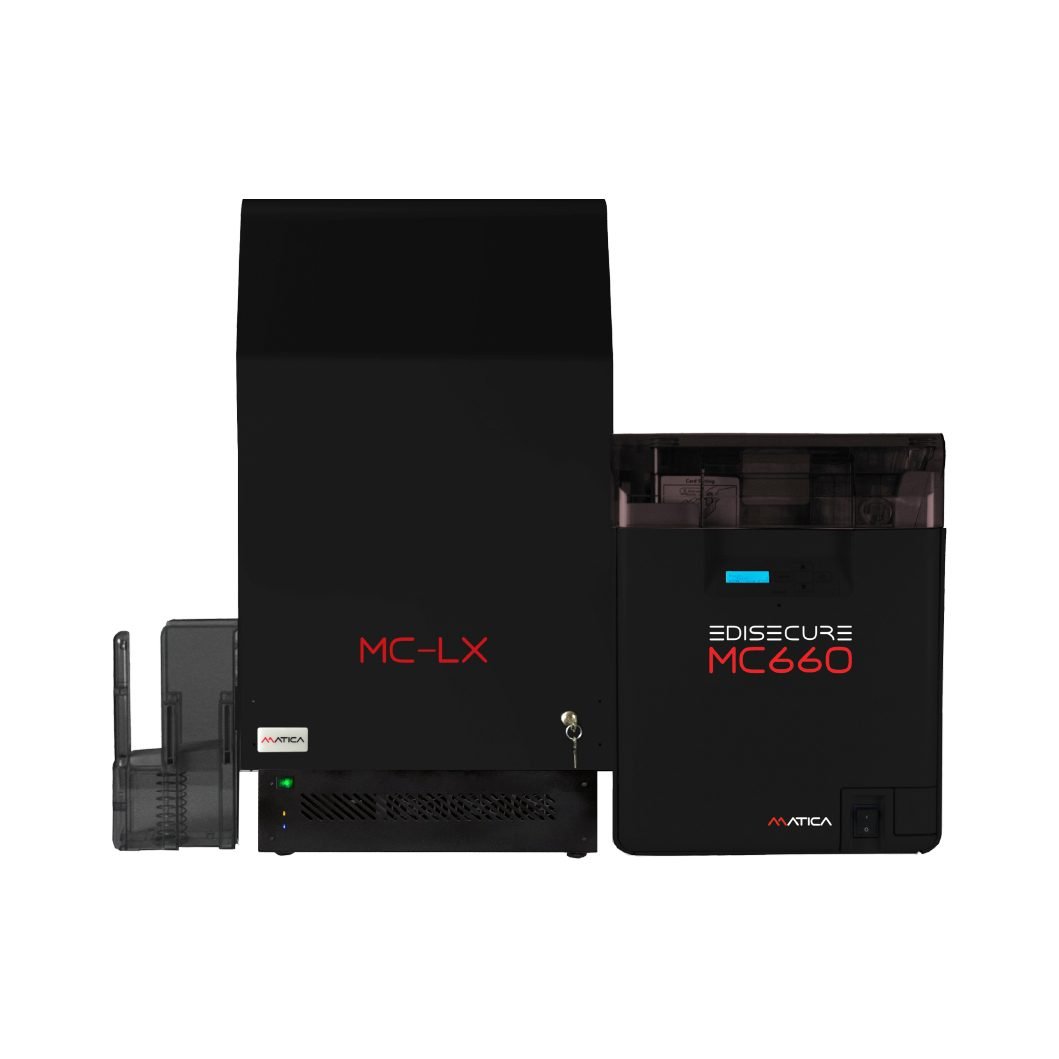 LCP9660
Laser engraving and color printing combined for a secure ID issuance system
Ideal for decentralized issuance of secure citizen IDs, including driver's licenses
The LCP9660 combines high resolution retransfer printing with secure laser engraving inline for exceptional security and forgery protection. It delivers highly secure, full color, personalized government issued cards from distributed locations, quickly and easily in a single pass.
The LCP9660 features two integrated modules:
• The MC660 high resolution, color retransfer printer.
• The MC-LX, Matica's third generation desktop laser module.
It produces a personalized card that features an outstanding 600dpi color image combined with the enhanced security options enabled by laser engraving information into the body of the card.
For the ultimate security and durability of printed/engraved cards, a third module – the MC-L laminator – can also be added inline after the laser engraving process to add holographic or durability enhanced over-laminates to the card surface.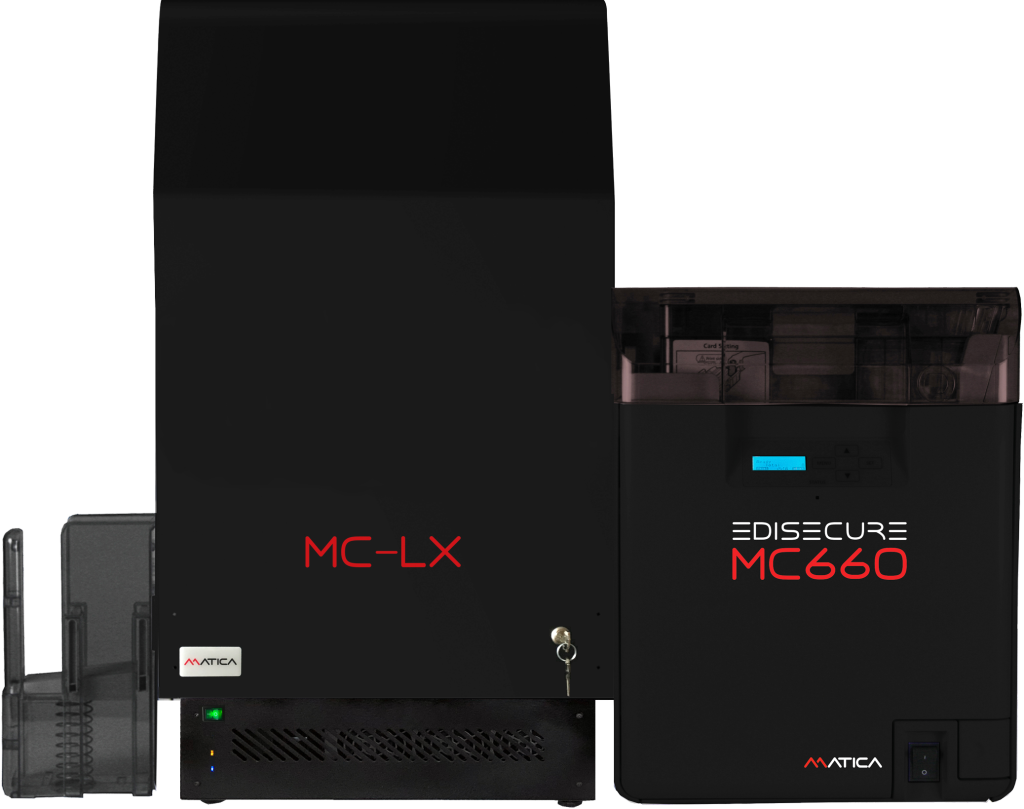 Advanced laser engraving system
The MC-LX has a sophisticated card transport system, TRIPODE® which can tilt the card in all directions so that the laser beam reaches all areas. This also ensures frictionless transportation during production. The integrated flip-over and vertical adjustment for "out of focus" effects enables the seamless activation of security options, including visual security elements such as CLI and MLI.
MSPI™: Matica Secure Protected Image
The LCP9660 system enables the use of Matica's proprietary technology, MSPI, in a decentralized issuance environment. MSPI adds an extra security feature when using polycarbonate cards by extracting the black (K) from the color image and adding it as a laser engraved secondary process in perfect register.
Key strengths
10W fiber laser, MOPA technology
600 x 600dpi dual-sided printing
Able to print invisible UV colors and visible colors simultaneously
High-definition duplex laser marking
High reliability
Up to 120 cards per hour
Ideal for
Secure government ID issuance programs
Optional upgrades
Laser security options: MSPI, CLI/MLI, offset registration, MRZ reading
MC-L lamination module (single/dual-side)
Optical reader: 1D/2D barcode
Optical reader: Digital camera for OCR recognition
Customized holographic retransfer film
Product features
Retransfer dye sublimation
Holographic retransfer film
Technical specifications
Printing
Method
Fiber laser 10W
Dye sublimation thermal retransfer
Mode
Laser engraving and retransfer
Resolution
600dpi color printing
1200dpi laser engraving
Speed
Up to 120cph
Encoding
Magnetic stripe
ISO 7811 HiCo/LoCo
(factory fit only)

Smart card / contactless
Contact PC/SC, EMV compliant
Smart contact: ISO 7816-2, ISO14443A, B, ISO15693, MIFARE®, DESFire®, HID iClass®
Cards
Format and materials
ISO CR80
PC, PET, PET-F, PET-G, ABS
Card thickness
0.25 mm – 1.0 mm
(10 mil – 40 mil)
Input stacker
250-card output hopper
(0.76mm – 30 mil thickness)
Output stacker
250 card feeder
(0.76mm – 30 mil thickness)
Connectivity
Connectivity
Ethernet
USB (1.0, 1.1, 2.0, 3.0)
Serial RS-232C
Platform
Printer dimensions (L x W x H)
1036 x 740 x 1097mm
(40.7″ x 29.1″ x 43.1″)
(including both printer and laser module)
Weight
Printer module: 20kg / 44.1lb
Laser module: 30kg / 66.2lb
User interface:
Two line LCD display
LED status indicator
Printer security:
Support for Kensington® security lock
Manual lock options
Consumables
| Ribbon | Panels | Capacity | Part No |
| --- | --- | --- | --- |
| ChromXpert Diamond | YMCK | 500 prints | PR000616 |
| ChromXpert Diamond | YMCKK | 410 prints | PR000617 |
| ChromXpert Diamond | YMCKUv | 410 prints | PR000612 |
| ChromXpert Diamond | YMCKSc | 410 prints | PR000613 |
| ChromXpert Diamond | RT Film | 500 prints | PR000619 |
| ChromXpert Platinum | YMCK | 500 prints | PR20619116 |
| ChromXpert Platinum | YMCKK | 410 prints | PR20619117 |
| ChromXpert Platinum | YMCKUv | 410 prints | PR20619113 |
| ChromXpert Platinum | YMCKSc | 410 prints | PR20619112 |
| ChromXpert Platinum | RT Film | 500 prints | PR20619219 |
| ChromXpert Platinum | Hologram Secure A design | 500 prints | PR20620221 |
• To ensure print quality and card durability, printhead lifespan and overall printer reliability, use chromXpert ribbons only.
• Supply cores and cassettes are recyclable. Packaging is recycled.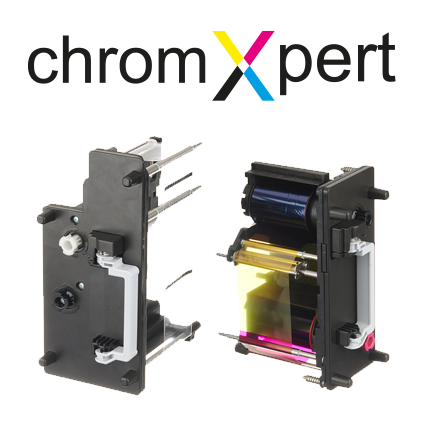 Related products
Markets