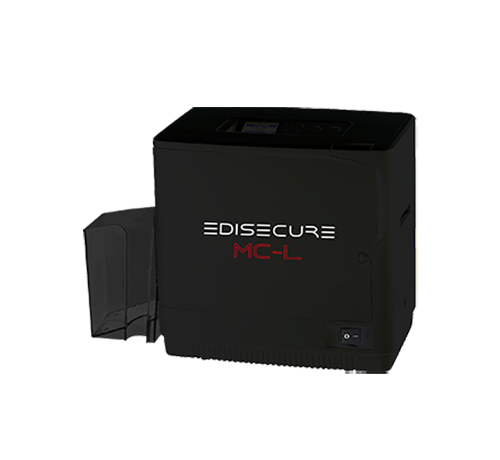 MC-L
High performance inline / stand-alone card laminator
Enhancing card security and durability inline with the MC660 printer or as a stand-alone unit
The MC-L laminator module is the ideal solution to enhance the durability and the security of cards printed on the MC660 retransfer card printer. Easy to install and operate, the MC-L can either work inline with the MC660, using the connection plinth supplied, or can be operated as a stand-alone unit. It laminates cards at exceptional speeds, laminating both sides of the card in less than 20 seconds thanks to the simultaneous dual-side lamination process.
The MC-L is available in three different configurations to suit any card lamination application:
• Single-sided lower cassette only
• Single-sided upper cassette only
• Dual-sided with both lower and upper cassettes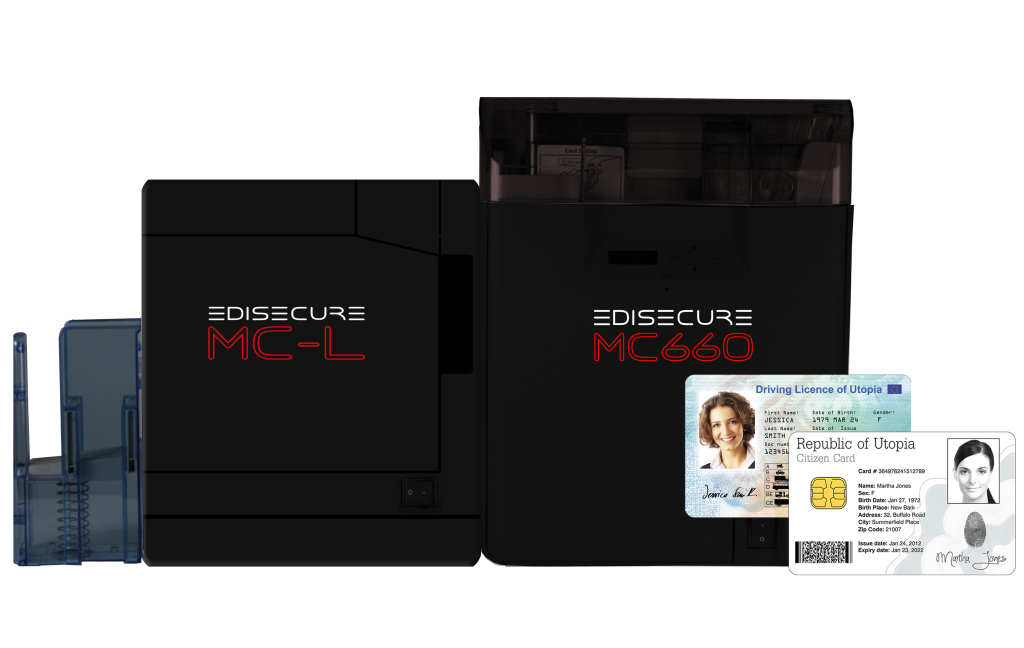 Key strengths
Compact desktop design that seamlessly integrates with the MC660 retransfer printer
Up to 180 cards per hour
Controllable from Matica's EDIsecure driver
Ideal for
National ID cards
Driving licenses
Resident cards
Corporate cards
Campus / student cards
Options
Continuous overlay film or patch laminate
Standard or customized holographic or
clear laminate
Single-sided (upper or lower cassette) or
dual-sided lamination
Enhancing card security
Once personalized, cards can be laminated with the MC-L by using a heat-sealing film. This film can contain holographic and other Visual Security Elements (VSEs) for enhanced protection. Matica offers a range of standard holographic designs in both patch laminate and continuous film formats. For the ultimate security protection, organisations can opt for a customized holographic laminate with VSEs that are unique to them – this approach is often adopted for government secure documents such as driving licenses and national ID cards.

Reinforcing card durability
Another important reason to laminate pre-personalized cards is to increase the durability and extend the life of the card, thanks to the enhanced mechanical and UV resistance of the lamination material. A card laminated with a 1.0 mil (35 micron) patch can have a lifecycle of up to 10 years – a timeframe often mandated for government/citizen ID schemes.

Product features
Technical specifications
Lamination
Lamination method
Heater roller
Lamination mode
Single and dual-sided
Halogen lamp
Single: 500W x 1 vertical
Dual: 500W x 2 vertical
Lamination speed
19 seconds
Laminates
Security
Protected with RFID tag
Thin film overlay
Clear or standard/customized holographic 1000 repeats/roll
Patch
Clear or standard/customized holographic 500 repeats/roll
Patch thickness
0.5 mil (clear)
0.6 mil (holographic)
1.0 mil (clear/holographic)
Cards
Card materials
PVC, PET-G, PET, ABS, PC
Card format
ISO CR-80-ISO 7810
53.98 x 85.60 mm
(3.375" x 2.125")
Card thickness
0.76mm -1.0 mm
(30 mil – 40 mil)
Capacity
Output stacker: 150 cards
Manual single card feed
Input hopper: 100 cards (stand-alone option only)

Connectivity
Connectivity
USB 2.0 (High-speed)
RS232
Platform
Printer dimensions (L x W x H)
319.4 x 215.9 x 314.1 mm
(12.5″ x 8.5″ x 12.3″)
Weight
10kg
(22lbs)
Consumables
Related products