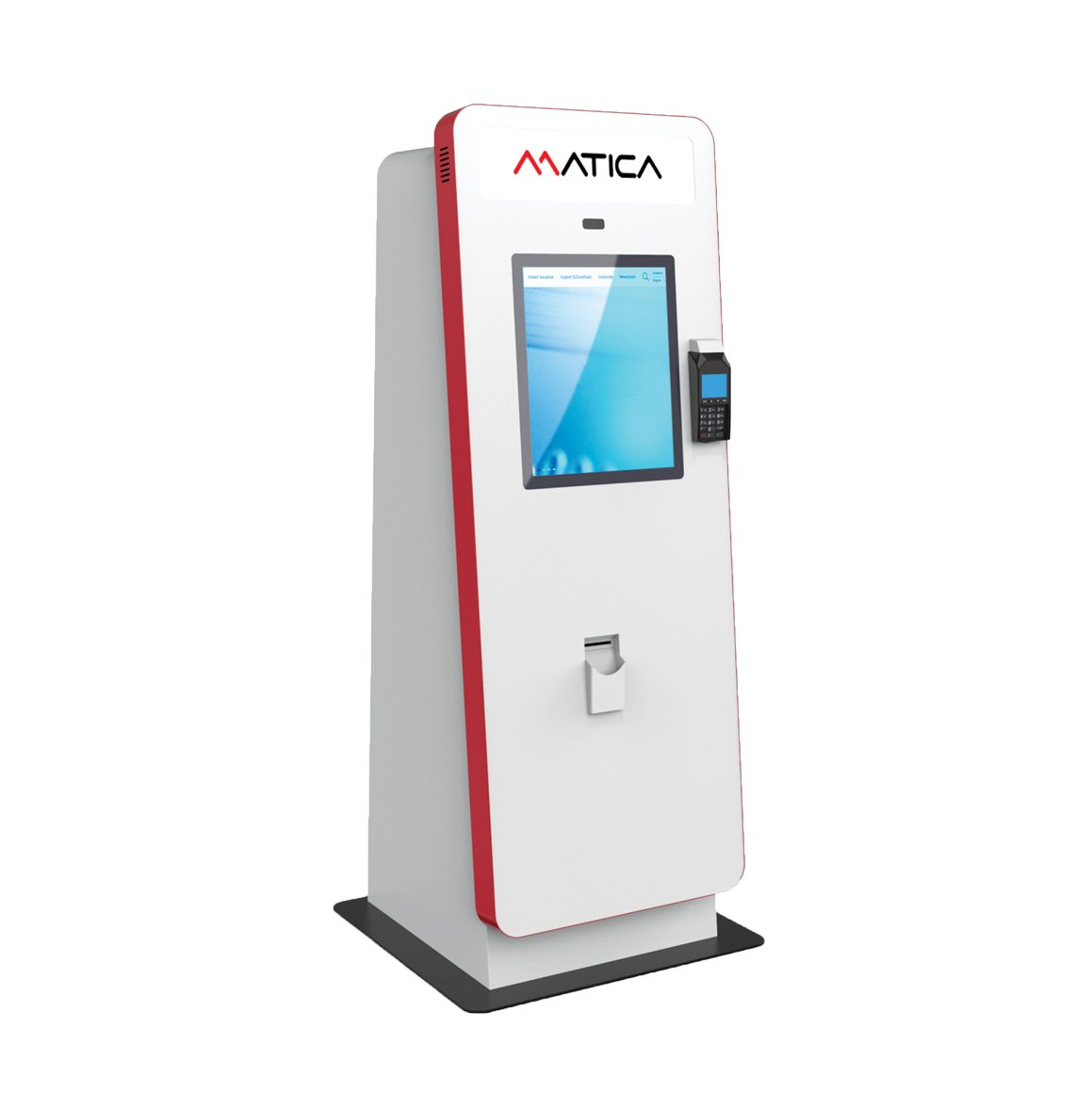 K3000
Configurable kiosk solution for in-branch self issuance of financial cards
Intuitive, user-friendly system for banks, credit unions and other financial services organizations
The K3000 self issuance debit and credit card kiosk is designed with a footprint that can easily be accommodated within any financial instant card issuance environment. It offers a user-friendly experience and a wide range of integrated capabilities. It is a simple, safe, secure solution for self registration of new accounts or for the convienient replacement of lost or stolen cards.
The K3000's robust outer steel structure accommodates either the XID8 series retransfer printer, available in both 300dpi and high resolution 600dpi, or the brand new MC310 direct to card printer. To ensure a smooth transfer of data to card, the K3000 is integrated with Matica's leading financial card issuance software, Cards On The Spot™ which also provides customers with an intuitive graphical user interface.
This system also provides financial institutions with full visibility of card stock and supplies, control over access, and full reporting capabilities.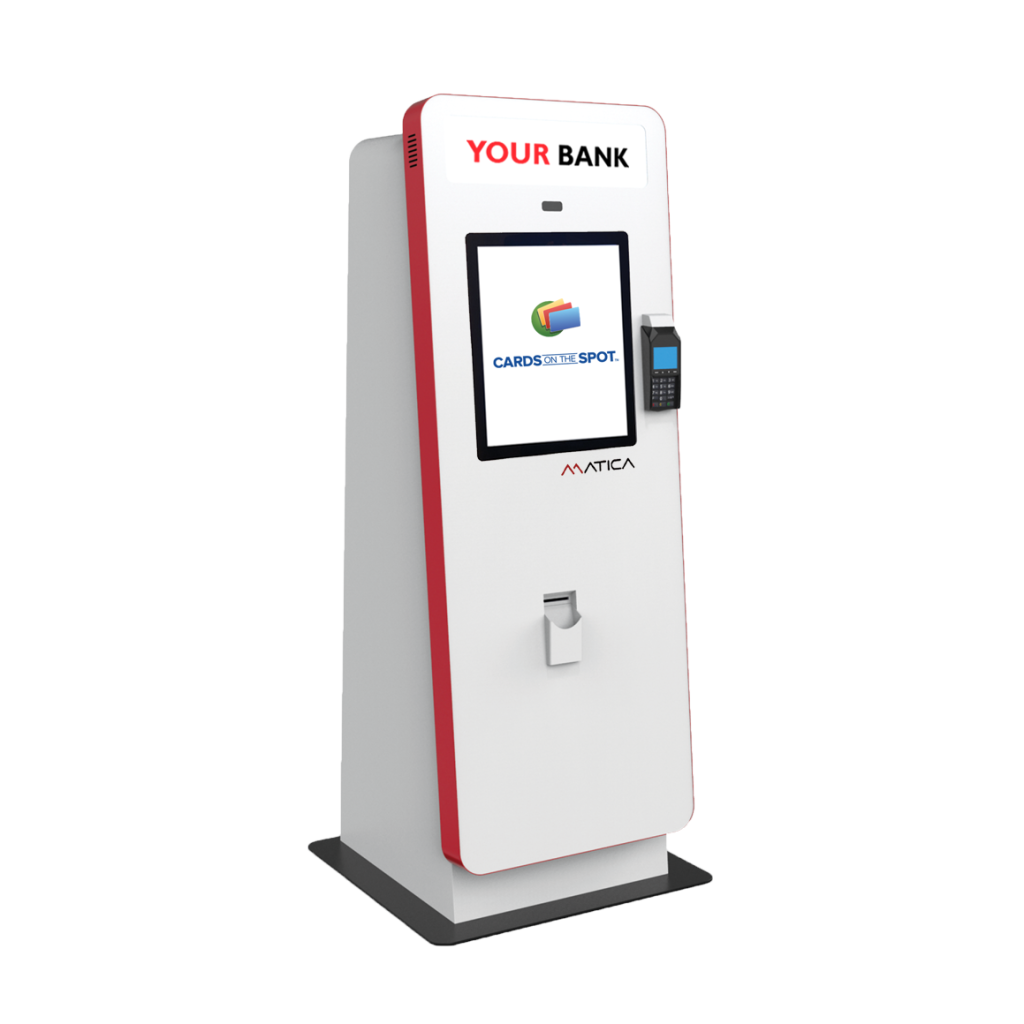 Key strengths
Compact and sturdy metal construction with optimized footprint
Durable, reliable design that can easily withstand day-to-day use
Industrialized components for higher up time and reliability
Integrated instant issuance software
Intuitive graphical interface
EMV, Visa and Mastercard security compliance
Ideal for
EMV instant bank card issuance
Self registration of new accounts
Self issuance of replacement debit or credit cards
Offering the security that you need at branch level
The K3000 kiosk allows for easy storage of consumables and card stock, protected by mechanical locks in the kiosk structure and electronic locks on the printer. Developed with an ergonomic and efficient design, it is a simple and flexible solution that has been created to support the strict security demands of self-service systems. Fully compliant with all security standards required by financial card issuance platforms, it also integrates all necessary devices for data entry. This can include various user interfaces, such as a webcam, a touchscreen, and a PIN entry device, including smart card reader.
Standard features
Retransfer dye sublimation
Integrated options
Learn more about the K3000
Technical specifications
Kiosk
Method
Dye sublimation retransfer printing or optional dye sublimation direct to card printing
Mode
Single or dual-sided
Resolution
300dpi or 600dpi
Speed
20s per card (DTC)
30s per card (RT)
Encoding
Magnetic stripe
ISO 7811 HiCo/LoCo

Smart card / contactless
Contact PC/SC, EMV compliant.
Smart contact: ISO 7816-2, Contactless: ISO14443A, B, ISO15693, MIFARE®, DESFire®, HID iClass®
Cards
Format and materials
ISO CR80
PVC, PVC-C
RT only: PET-F, PET-G, ABS, PC
Card thickness
0.25 mm – 1.25 mm
10 mil – 50 mil (DTC)
0.25 – 1.02 mm (RT printer adjustment required)
Input stacker
100 cards (0.76mm)
Kiosk
Monitor
19″ Diagonal (portrait)
Computer
Posiflex, 4GB, Win10
Hard drive
64GB
PIN Device
Ingenico Lane 3000
Webcam
Integrated
Security
Physical locks on kiosk
Electronic locks on card printer
Platform
Kiosk dimensions (L x W x H)
1630 x 553 x 711 mm
(64.2" x 21.8" x 28"")
Weight
77 kg (170 lbs)
(printer not included)
Consumables
Related products
Markets