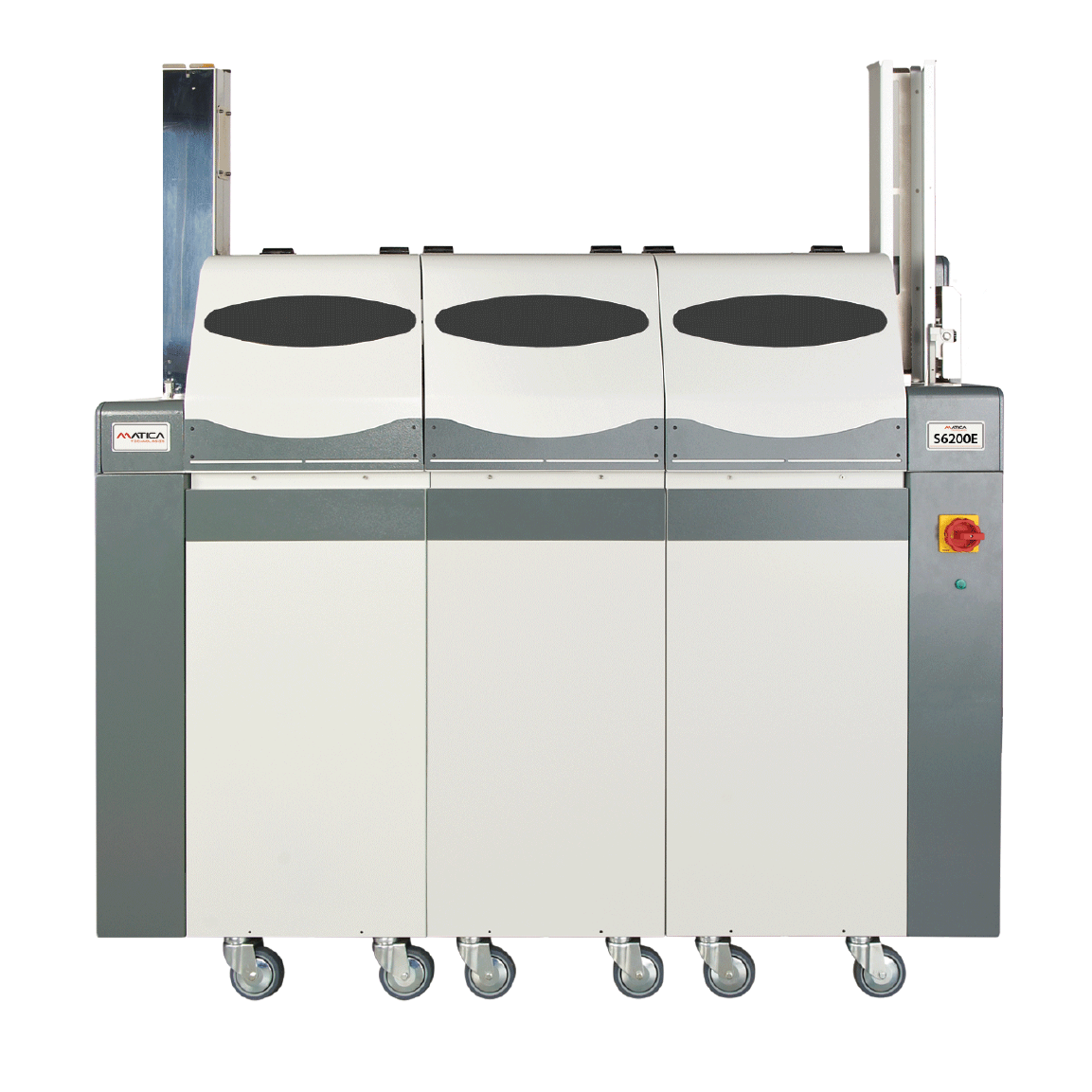 S6200E
Cost effective, mid-sized solution for financial card embossing and encoding
High performance, high speed issuance solution for embossed EMV cards
The S6200E card issuance platform takes care of the encoding, embossing, and tipping of EMV-compliant financial cards. It has been specifically designed for central issuance programs at card personalization centers or for use in larger scale issuance schemes within financial institutions.
The S6200E is a modular system, built upon the reliable, proven and market leading S7000 platform. The use of Matica's established proprietary technology and components ensures that the S6200E offers an excellent price-performance ratio – making this pre-configured integrated solution well suited for high speed, low cost, financial card production.
It is capable of processing speeds of up to 600 cards per hour, with a maximum work period of 16 hours a day. The S6200E comes equipped with a standard 98 character embossing and indenting unit. This can be upgraded to offer a wider range of embossing, indenting and tipping features.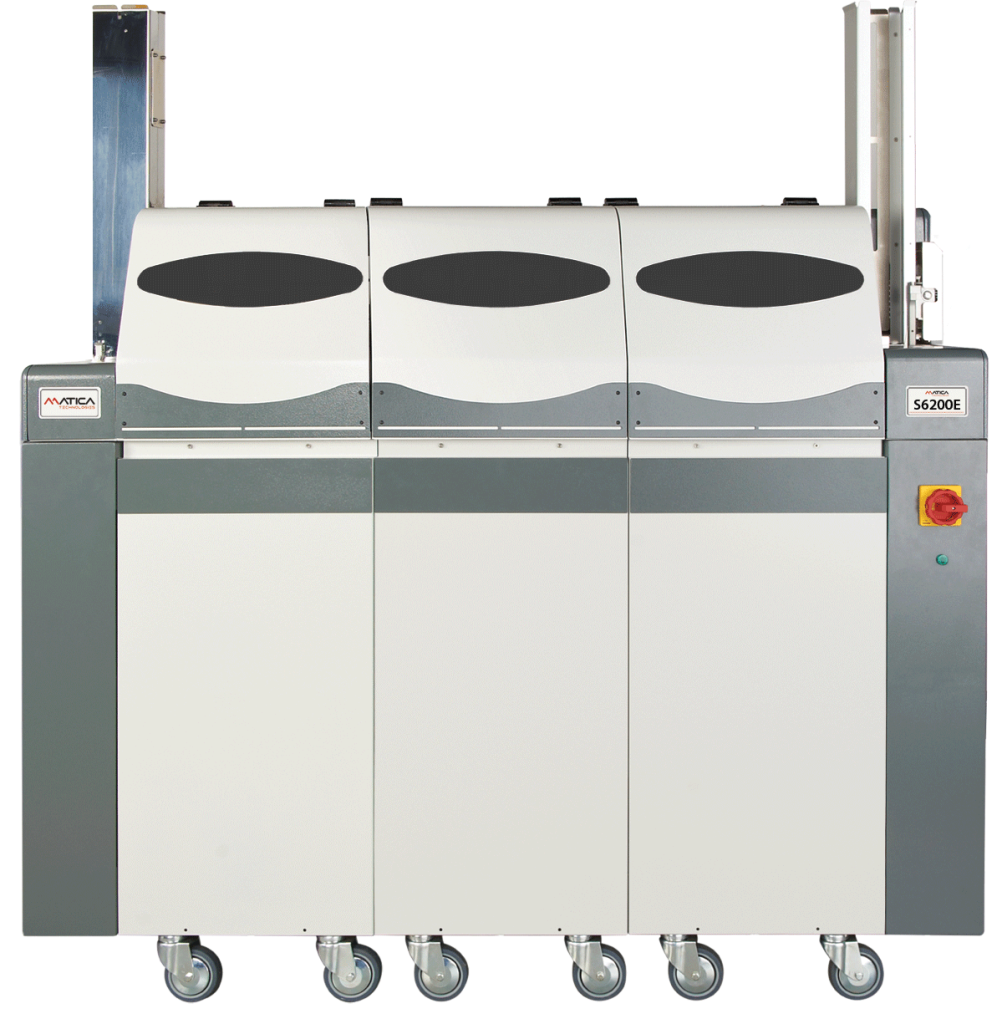 Key strengths
Embossing, indenting and tipping with optional card encoding
Built upon proven, proprietary technology
Modular, with flexible configuration and defined field upgradability
PCI/DSS compliant software
Step-up license option to "unlock" any field upgrade option
Ideal for
Mid-volume issuance schemes at card personalization centers or within financial institutions
Embossed EMV card personalization
Optional card personalization elements
Additional 100 characters embossing and indenting unit
Front and/or rear in-filler station
Graphical personalization integrity verification
Inline card mailing, card folding and envelope insertion
Magnetic stripe encoding
Pro issuance kit (key locked cabinet, stack light, data encryption)
Single or multi smart card encoding station
Upgrade to a S7000 high-volume issuance system
Scalable solution, designed with the issuer in mind
The S6200E saves additional consumable costs by using durable, long-lasting ribbons with a capacity of up to 4,000 cards per reel. Its modular concept enables you to configure and re-configure the platform to the required demands and outputs. Additional options cover a range of applications and include an embossing and indenting upgrade unit with 100 additional characters, for more sophisticated projects. A front and/or real in-filler station upgrade simplifies the production process. Each device also comes with Windows-based Maticard Pro software for straightforward setup, maintenance, and operation.
The S6200E can also be upgraded to a S7000 high-volume issuance system by using the step-up license option to "unlock" field upgrades, enabling issuers to match output demands if they increase. The S6200E's modularity, consistent output quality, combined with single step encoding, embossing, as well as front and rear indenting, makes it a great match for cost-conscious personalization institutions with growth potential.
Smart, safe and secure financial card issuance
As an additional security measure, issuers can take advantage of the 'pro issuance kit' – including a key locked cabinet, stack light and data encryption. Graphical personalization integrity verification can also be integrated to further increase compliance with advanced security policies. To streamline the process of getting the finished products into customers' hands, a card folding and envelope insertion station can be added, transforming the S6200E into a complete card-to-envelope solution.
Product features
White, Black, Gold, Silver
Technical specifications
Printer
Method
Embossing, indenting and tipping
Speed
600 cph
Embossing
Embosser 98 character drum
Single tipping unit
Encoding
Magnetic stripe encoding
Tracks 1, 2 & 3 ISO7811, HiCo/LoCo
Contact/contactless
EMV compliant contact chip encoding
EMV compliant contactless chip encoding
Cards
Format and materials
ISO CR80
Card material
ABS, PET, PVC
Card feeder
600 cards
Card stacker
600 cards
(Approx. 385 embossed cards)
Other
Connectivity
USB 2.0
Ethernet
Fonts
Std. Gothic and OCR7B emboss
OCRB1 and OCRB4 front indent
OCRA1 and CVV2 rear indent
Wide choice of country specific and other embossing/indent types
Platform
Printer dimensions (L x W x H)
1400 to 2830 x 550 x 1400 mm (55 to 111'' x 22'' x 550'')
Related products
Markets