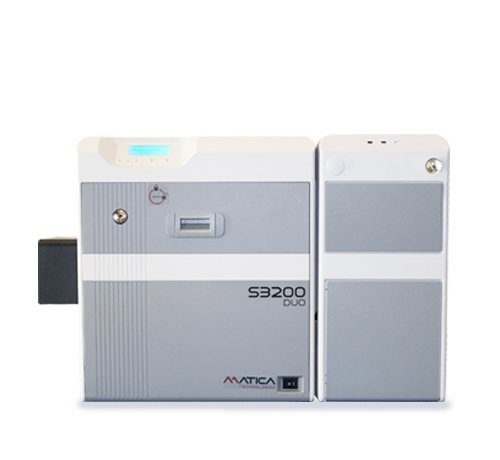 S3200 DUO
Flexible and efficient retransfer printing for EMV instant issuance
Hold multiple card stocks for instant issuance schemes
Built on the successful S3200 card printer, the S3200 DUO give issuers the flexibility of a dual feeder module. The S3200 DUO is a a compact and affordable solution that can handle two types of cards (e.g. Mastercard and Visa) at the same time. This reduces machine downtime and man power required to issue the correct cards at branch level.
Configured with two removable cartridges, the S3200 DUO ensures easy and reliable loading. Each cartridge can be loaded with up to 100 cards (30 mil) providing a total input capacity of 200 cards. An exception slot is available for slow runners, allowing the issue of a third type of card if needed.
The optional IPSC (IP Secure Controller) offers a high-performance operation over Ethernet, featuring secure chip encoding over local area network (LAN) and wide area network (WAN) with data encryption and data compression for network traffic optimization. The S3200 DUO has been equipped with internal electronic locks and mechanical keyed locks on the front door to prevent unauthorized access to the card cartridges and internal reject tray, ensuring that any card issued is secure.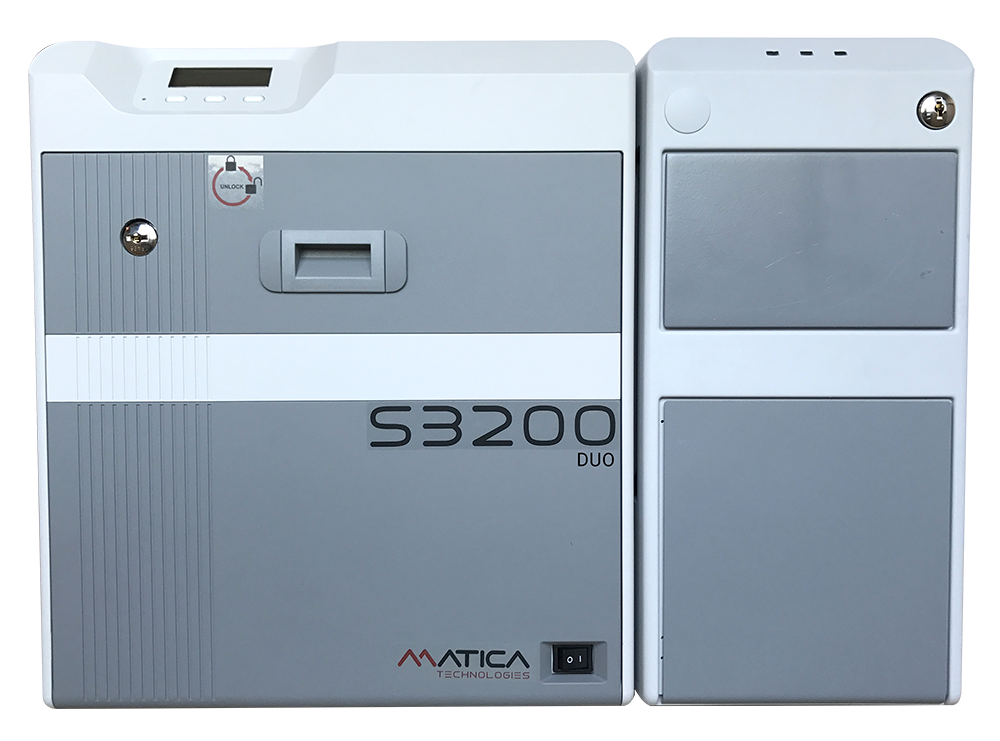 Key strengths
300 x 300dpi, dual-sided printing
Dual feeder (2x 100 cards)
Magnetic stripe ISO7811 and contact/contactless chip encoding
Superior print quality and reliability
Ideal for
Low to mid volume financial card programs
Instant issuance in branch
Flat EMV card personalization
Optional upgrades
On-board PC
Security: UV printing
Single-wire connectivity
Product features
Retransfer dye sublimation
YMC/K+PO, Mag ISO encoding
K (Front side) Mag ISO encoding
Technical specifications
Layout
Method
Dye sublimation retransfer (YMCK)
Thermal transfer
(Monochrome K)
Mode
Dual-sided
Resolution
300dpi
Speed
YMC/K+PO printing, Mag ISO encoding: up to 45cph
K (front side) printing, Mag ISO encoding: up to 80cph
Chip encoding: add 6 to 15 seconds (customer application dependent)
Encoding
Magnetic stripe
ISO 7811 HiCo/LoCo
(factory fit only)

Smart card / contactless
Contact PC/SC, EMV compliant.
Smart contact: ISO 7816-2, Contactless: ISO14443A, B, ISO15693, MIFARE®, DESFire®, HID iClass®
Cards
Format and materials
ISO CR80
PVC, Composite PVC, PET-G, PC
Card thickness
20 mil – 40 mil
(hopper adjustment required)
Input stacker
2 x 100 card removable cartridges (total capacity 200 cards 0.76mm, 30 mil)
Output stacker
75 cards (0.76mm, 30 mil)
Reject stacker
10 cards (0.76mm, 30mil)
Connectivity
Connectivity
Ethernet
USB 2.0
Platform
Printer dimensions (L x W x H)
345 x 411 x 327 mm
(13.5" x 16.2" x 12.8")
Weight
15 kg (33 lbs)
(excluding optional built-in items)
Consumables
Related products
Markets