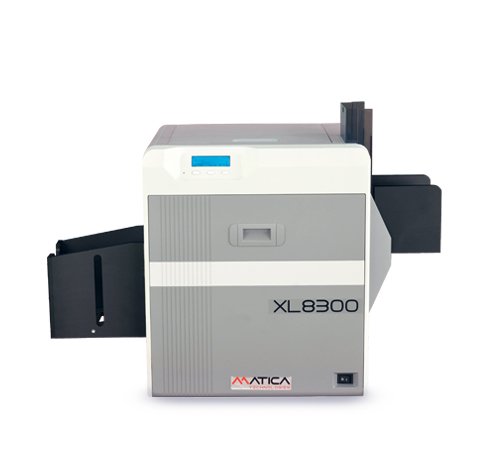 XL8300
Specialist printer for oversized event cards and credentials
Oversized card printing and personalization
Built on Matica's established XID print engine, the XL8300 utilizes its retransfer printing technology to offer high quality, bespoke event badge printing on wide format plastic cards, widely used as access credentials in the event management industry.
Concert organizers, professional sports teams or event management marketing agencies can rely on XL8300 to quickly deliver personalized credentials for their events. Oversized cards may serve as event passes or tickets, as well as name tags to identify regular attendees, VIPs or staff. Highly visible, personalized, oversized cards for attendees, VIPs and staff help facilitate event security and access control requirements.
With outputs of up to 128 cards per hour in monochrome mode and up to 85 full color cards per hour, the XL8300 can deliver even when event timelines are tight and deadlines are looming. Its compact desktop footprint makes enables event badges to be printed onsite and on demand.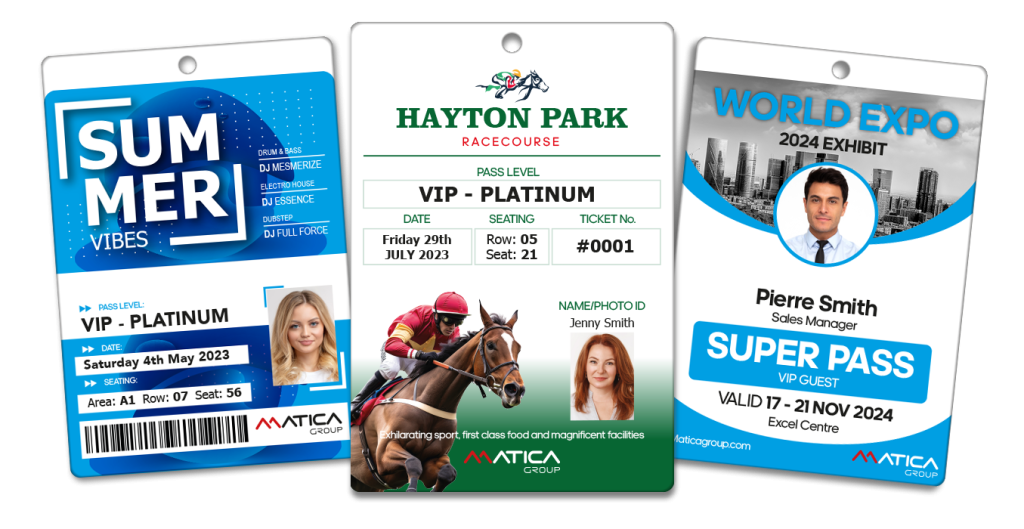 Key strengths
300 x 300dpi color retransfer printing
Oversized card format:
124 x 85.6mm / 4.88'' x 3.37''
Robust and durable print engine
Consistent print quality on multiple card surfaces/materials
High capacity consumables (1000 images)
Up to 85 color cards per hour
Scalable design and compact footprint
USB and Ethernet
Ideal for
Corporate events
Concerts
Sports events
Optional upgrades
Inline contact chip and contactless smart card encoding
UV security printing
On-site issuance of high quality oversized cards
The XL8300 offers the largest printable area for plastic cards on the market and its superior print quality will positively reflect the image of the brand or organization.
This event badge printer lets issuers choose between monochrome carbon black shades or a full color range. Its retransfer printing technology ensures that issuers are not bound to standard PVC cards, but can also opt for more durable card materials, such as ABS and PET.
Matica's XL8300 also offers a number of features to help secure events. These include a contactless chip encoding option for sites with specialized security requirements, as well as UV printing that enables the printing of an invisible logo, text, or watermarks to protect badges against forgery.
Product features
Retransfer dye sublimation
Technical specifications
Layout
Method
Dye sublimation
Mode
Single-side retransfer
Resolution
300dpi
Speed
Monochrome: 128 cph
Color: 85 cph
Encoding
Contactless:
ISO14443A, B, ISO15693, MIFARE®, DESFire®,
HID iClass®
Cards
Oversized card Format
124 x 85.6mm
(4.88'' x 3.37'')
Materials:
PVC, ABS, PET
Card thickness
0.25 mm – 1.02 mm
(10 mil – 40 mil)
(Hopper adjustment required)
Input hopper:
100 cards (0.76mm)
Output stacker
100 cards (0.76mm)
Connectivity
Connectivity
Ethernet
USB 2.0
Platform
Printer dimensions (L x W x H)
549 x 322 x 411 mm
(21.6″ x 12.6″ x 16.1″)
Weight
15.6 kg
(34.3 lbs)
(excluding optional built-in items)
Consumables
| Ribbon | Panels | Capacity | Part No |
| --- | --- | --- | --- |
| ChromXpert Diamond | YMCK | 1000 prints | PR000816 |
| ChromXpert Diamond | YMCKK | 750 prints | PR000817 |
| ChromXpert Diamond | YMCKUv | 750 prints | PR000813 |
| ChromXpert Diamond | K | 2200 prints | PR000815 |
| ChromXpert Diamond | RT Film | 1000 prints | PR000819 |
| ChromXpert Platinum | YMCKPo | 750 prints | DIC10218 |
• To ensure print quality and card durability, printhead lifespan and overall printer reliability, use chromXpert ribbons only.
• Supply cores and cassettes are recyclable. Packaging is recycled.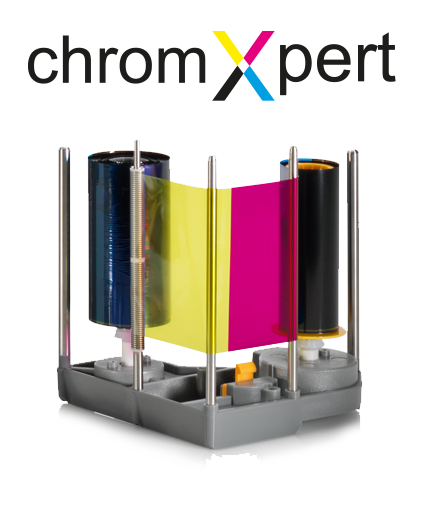 Related products
Markets