Matica Technologies announces its attendance at TRUSTECH 2022, the largest global event for trust-based technologies. A popular mix of trade show and conferences, Matica will be showcasing its latest hardware and digital technologies for the payment, identification and security markets.
TRUSTECH will take place at Paris Expo – Porte de Versailles with Matica pavilion 5.2 booth C 005. For the first time, Matica will be displaying the full MC DTC family (MC110, MC210, MC310) which will include full working demonstrations and card sampling.
Matica's booth will also feature several secure personalization technologies, including an onsite visit from our partner CardExchange, who will be on-hand to demonstrate and answer any questions you may have for the design and issuance of cards.
In addition, Matica will be exclusively previewing an all new 'game changing' product range that is set for launch in 2023. Book a slot at TRUSTECH with our team today and be one of the first to preview the latest Matica product in development.
Make sure you contact your local sales representative to arrange a meeting.
📣 Hear from our experts!
Mandy Kerr, Matica's Global Sales Director, Will be guest speaking at the TRUSTECH live event discussing Secure ID – The modern way. Mandy's presentation will take place on the 30th November at 14:30pm, where you will have a great opportunity to ask questions, listen to the latest industry trends and Matica's solutions.
Mandy commented:
"We can't wait to welcome everyone back to the Matica stand at this year's TRUSTECH show. Our new booth will give us an excellent opportunity to update you all on the latest product news and industry trends including the convergence of Physical and Digital ID. We are also including a first look at our trusted MC DTC family, which will be fully operational for card sampling. TRUSTECH has always been a fantastic show and we are looking forward to seeing you."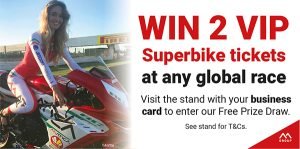 🏆Competition time
Visit Matica's stand at TRUSTECH 2022 and be in with a chance to win two tickets of your choice to next seasons SBK event. With 12 races each year, you will be in with a chance to pick a race of your preference which will also include complementary lunch for you and your guest with MV Agusta.
To enter, simply visit the Matica stand during the event and submit your details which will automatically be entered into the prize draw. Matica will be in touch with the winner after the show.
We look forward to seeing you in person at Trustech!
To request your free badge, please register here.