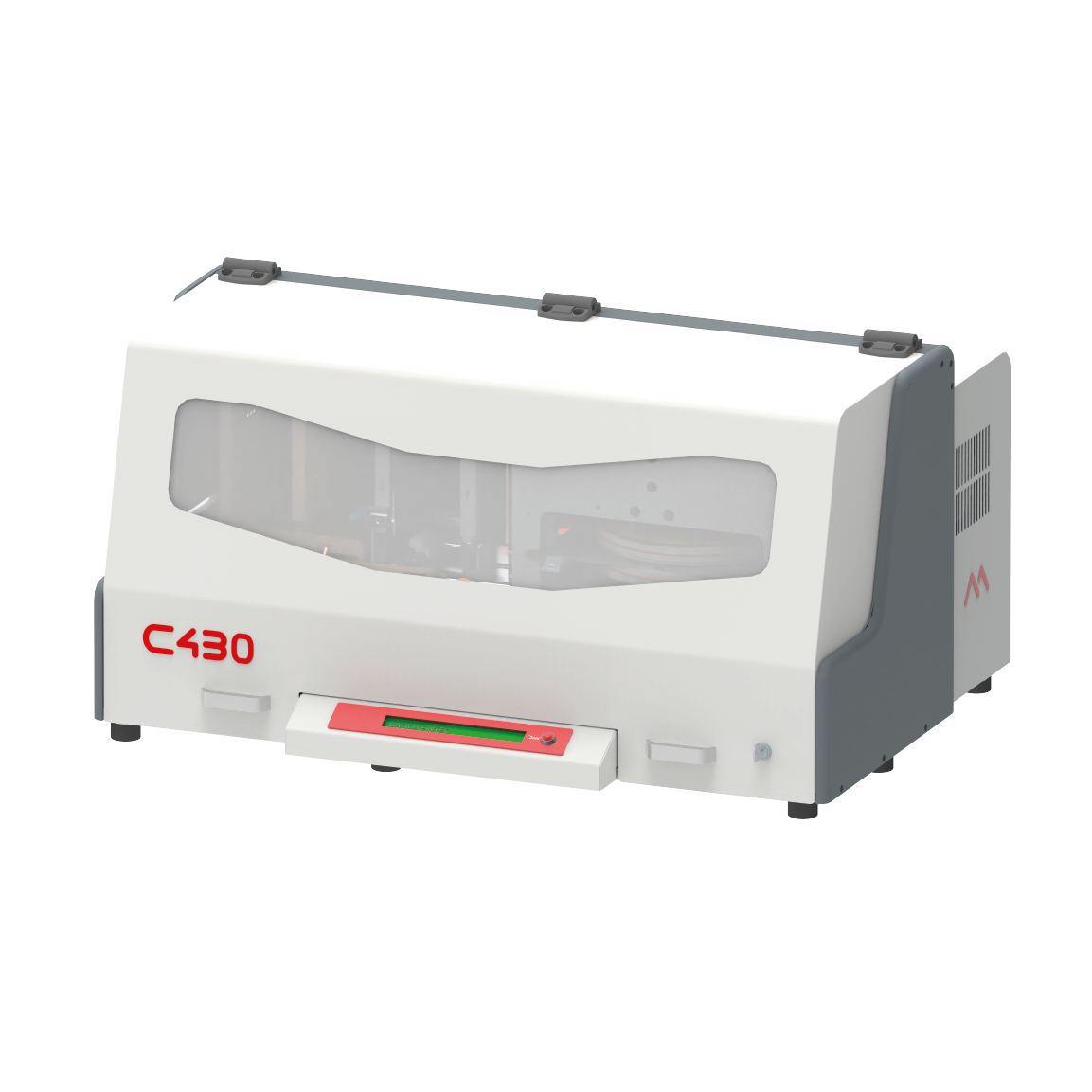 C430
Flexible, heavy duty desktop metal plate embosser
Heavy duty, industrial tabletop metal plate embossing
Matica's C430 is ideal for heavy duty and continuous production. It is an industrial grade system ready to emboss plates in any environment and can handle a huge variety of sizes, materials, shapes, and thicknesses.
The rugged C430 comes equipped with an integrated, manually adjustable automatic plate feeder that holds up to 350 plates (0.5 mm thickness). It is particularly suited for continuous medium to high volume production cycles. The system can easily accommodate various sizes and shapes of plates and can be efficiently used to emboss different identification plates within the same production facility.
The C430's heavy-duty embossing mechanism includes a powerful high torque motor, high percussion embossing arm, hardened drum, and fonts for the toughest jobs. It can personalize plates of various materials and thicknesses, including steel, iron, aluminium, bronze – with outstanding results guaranteed.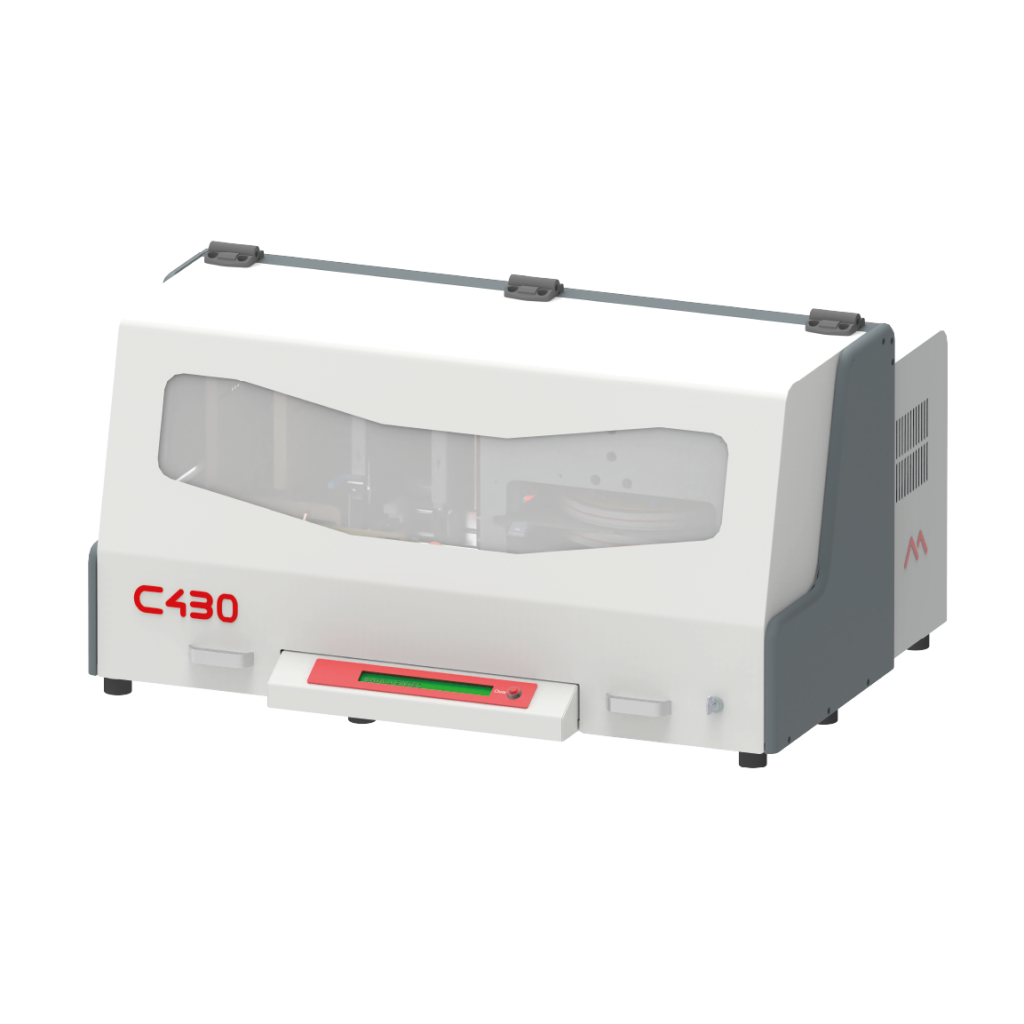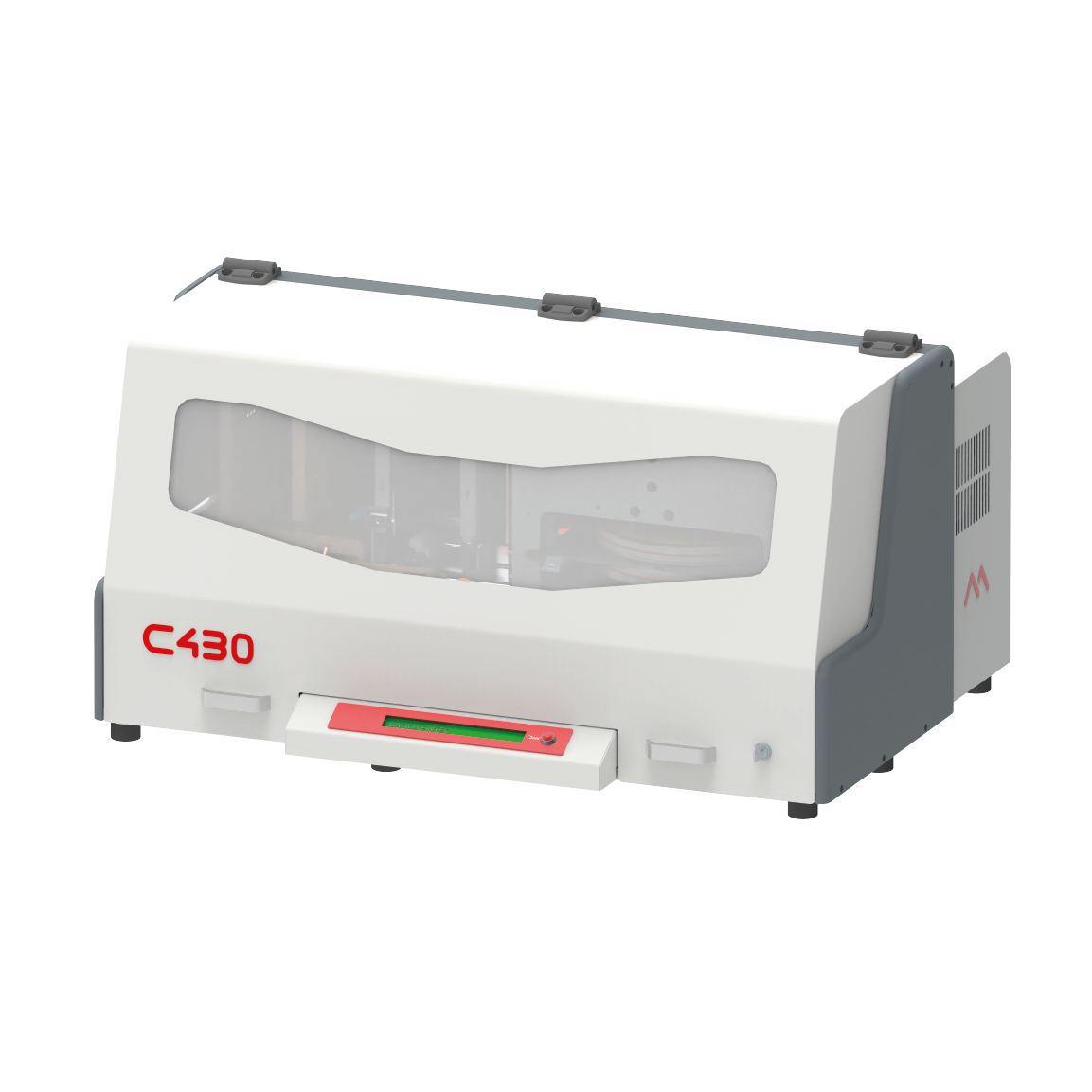 Key strengths
Renewed, modern industrial grade design
Compact desktop design easily fits anywhere
Cost effective with low maintenance
Fast and reliable continuous feed operation
Robust mechanics and durable metal casing
Two removable hoppers: for example, one for dog tags and one for medical red alert tags
Versatile for numerous metal plate applications/ sizes
Ideal for
Ideal for medium to high volume plate issuance
Steel and metal treatment plants
Automotive
Electric motors and pump tags
Shipyards
Automatic metal plate indenting and embossing with varied style types
Once embossed, plates can either be placed in an external collection box via a side eject mechanism or stacked in a First In First Out (FIFO) output stacker. The external tray is designed for those jobs where plate shape or side frequently changes.
It can be configured for either embossing or indenting using a wide choice of font styles, and plate dimensions can be manually adjusted based on application requirements, from a minimum of 50mm x 20mm to a maximum of 120mm x 90mm.
It has a X on X off protocol and has a generic Windows printer driver. Production can be easily managed by any Windows-based application. Other protocols are available for legacy machine replacements.
Product features
Technical specifications
Embosser
Method
Embossing and indenting
Speed
200 plates per hour
Plate embossing
Universal plate feeder
Side eject
Universal clamp holder
Embossing drum
100 characters
Available characters
Simplex 2 (350) – 3 mm embosser
Simplex 3 (489) – 4 mm embosser
USA block (490) – 4 mm
Block (488) – 5mm
Double block (511) – 6 mm (50 characters drum)
Double long block (611) – 8 mm (50 characters drum)
Maxi block (711) – 12 mm (50 characters drum)
Plates
Format and materials
Minimum plate dimensions
(L x W): 50 mm x 20 mm
Maximum plate dimensions
(L x W): 120 mm x 90 mm
Non – embossing area: 5mm from clamp side
Plate material
Steel, iron, aluminium, bronze
Plate feeder
350 plates (0.5mm thickness)
Other
Connectivity
USB 2.0
Interface
Protocol: Xon/Xo, CHIP, L2, ##
Storable format layouts: 2 of 50 fields x 80 characters
LAN (optional)
PS2 keyboard interface (keyboard not included)
Display
LCD display (40 x 2) + 1 clear button
Fonts
Other fonts available on request
All fonts are available in standard or reversed version
Security
Key-lock security feature
Emergency stop button
Platform
Printer dimensions (L x W x H)
910 x 600 x 420 mm
(35.8″ x 23.6'' x 16.5″)
Weight
70kg (154 lbs)
Warranty
1 Year or 500,000 plates
Related products