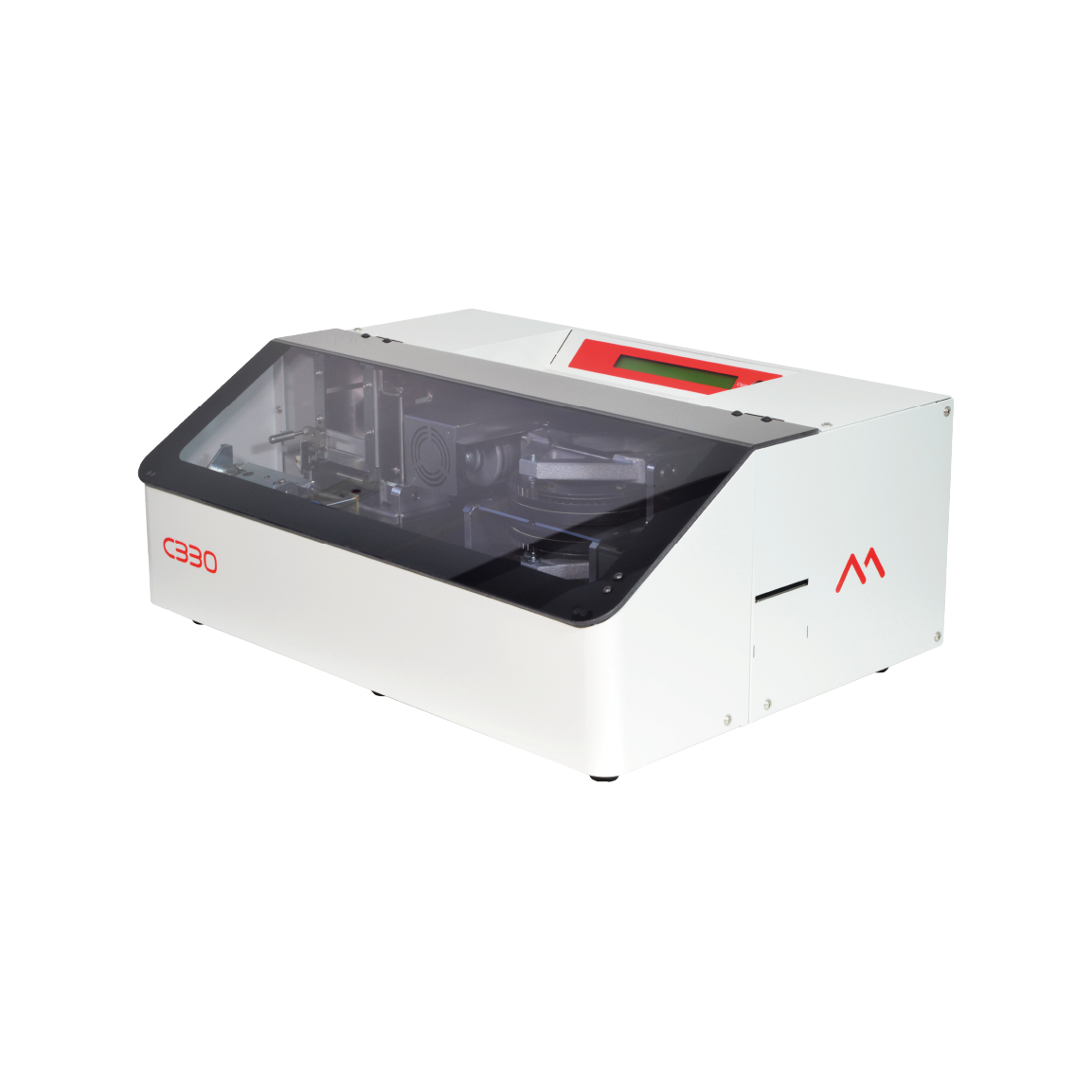 C330
Compact, desktop metal plate embosser
Robust, compact tabletop metal plate personalization
The compact C330 is suitable for low to medium volume metal plate embossing or indenting. It is ideal for industrial applications that require lower processing speeds or for use as a backup unit. This robust machine offers the advantages of automated plate embossing at an affordable price.
The C330's durable, modern and ergonomic structure, made in a combination of aluminium and self-extinguishable polycarbonate enables the system to withstand industrial environments. It features a silent embossing mechanism, making it suitable for any industrial or office environment.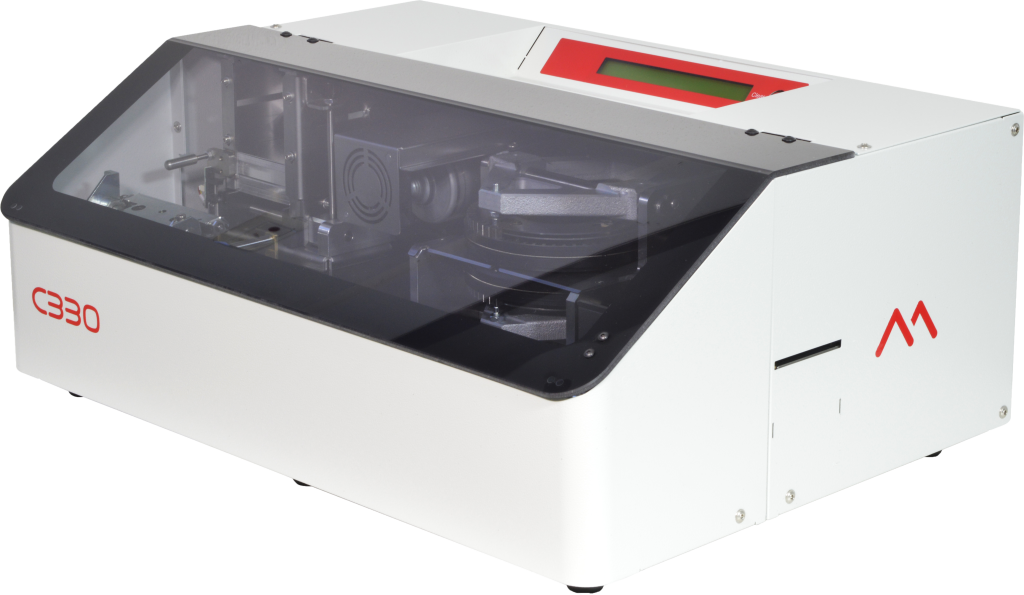 Key strengths
Compact and modern design
Reliable automatic plate feeder mechanism
Ideal for low to medium volumes
Silent embossing mechanism
Variable plate and font size
Manageable online and offline
Ideal for
Military and aerospace service
Steel and metal treatment plants
Automotive
Electric motors and pump tags
Automatic metal plate indenting and embossing with a wide range of font styles
The C330 is equipped with an automatic loading hopper for 200 plates (0.5mm thickness) and finished plates are ejected through a side slot into a removable box. It can be configured for either embossing or indenting using a wide choice of font styles, and plate dimensions can be manually adjusted based on application requirements, from a minimum of 50mm x 20mm to a maximum of 90mm x 60mm.
It has a X on X off protocol and has a generic Windows printer driver. Production can be easily managed by any Windows-based application. Other protocols are available for legacy machine replacements.
Product features
Technical specifications
Embosser
Method
Embossing and indenting
Speed
100 plates per hour
Plate embossing
Universal plate feeder
Side eject
Universal clamp holder
Embossing drum
60 characters
Available characters
Simplex 2 (350) – 3 mm embosser
Simplex 3 (489) – 4 mm embosser
USA Block (490) – 4 mm
Plates
Format and materials
Minimum plate dimensions
(L x W): 50 mm x 20 mm
Maximum plate dimensions
(L x W): 90 mm x 60 mm
Non – embossing area: 5mm from clamp side
Plate material
Aluminum
Plate feeder
200 plates (0.5mm thickness)

Other
Connectivity
USB 2.0
Interface
Protocol: Xon/Xo, CHIP, L2, ##
Storable format layouts: 4 of 15 fields x 32 characters
LAN (optional)
PS2 keyboard interface (keyboard not included)
Display
LCD display (40 x 2) + 1 clear button
Fonts
Other fonts available on request
All fonts are available in standard or reversed version

Platform
Printer dimensions (L x W x H)
610 x 430 x 250 mm
(24.0'' x 16.9'' x 9.8'')
Weight
25.5kg (56.2 lbs)
Warranty
1 Year or 150,000 plates

Related products